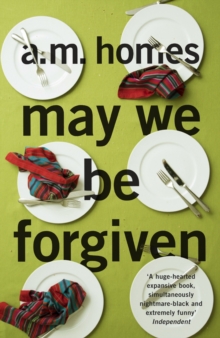 May We be Forgiven
Paperback
Description
Harry is a Richard Nixon scholar who leads a quiet, regular life; his brother George is a high-flying TV producer, with a murderous temper.They have been uneasy rivals since childhood.Then one day George loses control so extravagantly that he precipitates Harry into an entirely new life. In May We Be Forgiven, Homes gives us a darkly comic look at 21st century domestic life - at individual lives spiraling out of control, bound together by family and history.The cast of characters experience adultery, accidents, divorce, and death.
But this is also a savage and dizzyingly inventive vision of contemporary America, whose dark heart Homes penetrates like no other writer - the strange jargons of its language, its passive aggressive institutions, its inhabitants' desperate craving for intimacy and their pushing it away with litigation, technology, paranoia.
At the novel's heart are the spaces in between, where the modern family comes together to re-form itself.
May We Be Forgiven explores contemporary orphans losing and finding themselves anew; and it speaks above all to the power of personal transformation - simultaneously terrifying and inspiring.
Information
Format: Paperback
Pages: 496 pages
Publisher: Granta Books
Publication Date: 01/04/2013
ISBN: 9781847083234
Free Home Delivery
on all orders
Pick up orders
from local bookshops
Reviews
Showing 1 - 5 of 5 reviews.
Review by AlanSkinner
16/06/2015
Some time in the late 80s or early 90s, Umberto Eco wrote a series of essays, largely about America and Americana, published under the title <i>Travels in Hyper-Reality</i>. Had AM Homes' <i>May We Be Forgiven</i> been around at the time, it may well have featured as one of Eco's journeys. Reading it – at least the first half – is to forsake any hope of verisimilitude and open the door to hyper-reality. There are no real people in Homes' book; they're hyper-people, exaggerations of characters with deliberately lop-sided and surgically enhanced personalities. It is about foibles, failings and weaknesses, all writ large.<br/><br/>It's a book that looks at the world through a kaleidoscope but not one that fragments the world into pretty shapes and patterns; it is a kaleidoscope that magnifies and heightens and does so without the reassuring symmetry of mirror shards of glass.<br/><br/><i>May We Be Forgiven</i> is a book of two halves. The first half of the book roars along unabated, characters tumbling off the page and over each other, most quirky, all recognisable but none quite real. It's supposed to be the story of a downward spiral, a dangerous sea eddy, but actually it's more an outward spiral, a pinwheel, appearing to expand as more and more characters come within its orbit. The humour is constant, unchecked as if Homes gave herself over completely, giving her humour and perspective free rein. It begins with energy, bite and wit and limps to the finish line overcome with lassitude and the loss of its teeth. It's a tale of tragedy, conspiracy and delusion, carried along by great humour and unexpected, wonderful silliness and held together by Homes' excellent writing. It's such a pity it slides into blandness. It's like seeing Joseph Heller become Oprah Winfrey.<br/><br/>As the main character, Harold Silver, slowly builds his life and discovers what is important and jettisons that which weighs down the soul, the book changes tone. It becomes less outlandish and surprising. Slowly but inexorably, the book mellows and then, sadly, stagnates. The exuberance and quirkiness morphs into a safe, conventional and rather tame picture of normality. It's like being in a cage with a group of wild and exotic animals, only to find them rather tame and ordinary, as if they had been fashioned by Disney rather than by Dante.<br/><br/>There's a lot to like: Homes rips into modern life with relentless energy. It is about real crises and failings, great voids and despair, pettiness of the soul and weariness of the heart. Yet what it dissects is so much more interesting and vital than what it projects; what it observes is much more interesting than what it concludes.<br/><br/>Homes isn't savage; she isn't trying to rip out the empty heart of contemporary America; she is kinder and more sentimental than that. She is, instead, opting for open-heart surgery, massaging the heart back into shape after arteries hardened by wanton consumption and heart muscles weakened by dis-connection, personal un-fulfilment and emotional timidity.<br/><br/>It is worthwhile but ultimately disappointing. The ending is trite and, given the start, sadly safe. The South African section is particularly jarring, almost clichéd, from its cathartic impact on the family to the clumsy device of the wise tribal shaman's tea remedy. As a milestone in rehabilitation it revealed nothing of particular interest and kept us in familiar territory.<br/><br/>As the name suggests, this is a book about redemption but I think the less interesting person was redeemed. There is a particularly poignant moment at the very beginning of the book. A married woman kisses her brother-in-law, passionately and unexpectedly, and when he wants to make more of it, she replies,<br/><br/>"Could you let me have a little pleasure, a little something that's just for me?"<br/><br/>There's more emptiness, loss and sorrow in the brief scene than in all of the rest of the book. Not a few times it came back to me as the story I'd prefer to have been given.
Review by KymmAC
16/06/2015
Down-to-earth page-turner. From first sentence I was hooked and could barely put it down. Loved the transformation of Harry from self-involved childless lump to brave, caregiver and 'gatherer of broken families. <3
Review by Kate_Ward
16/06/2015
Tuesday. 1am: <br/>3 stars would be unfair, so this is really 3 and a half. A brilliant last 100 pages really made up for the animosity I was feeling towards the books central characters and themes. Will review fully when I've slept on it....<br/><br/>Tuesday. 6pm: ...So. I've slept on it and knocked it back down to 3/5, purely for the fact that I found a third of this novel infuriating, and here's why.<br/><br/>Harry is the older brother of the bullying, violent, egotistical TV executive George and the book opens as he and his Asian wife (the first of the sickening borderline racist stereotypes) are visiting his house for Thanksgiving. And from there on in it all goes wrong. In the first 50 pages we're presented with an amazing series of events culminating in tragedy that affects everyone around them. No matter how hard Harry tries to make amends for his 'bad deed' he's constantly either screwing it up, or just adding to his woes. The problem is, Harry is such a child that in the beginning, his inability to grow up hampers everything, resulting in a spiral towards internet hook-ups for sex, picking up a very strange girl and taking her home...for sex (for such a loser, Harry does get around a bit) and then there's the self-medicating anything and everything he can get his hands on, causing a major health alert in the first half of the book.<br/>But eventually, the responsibility he is forced to take on in the form of his niece and nephew, give Harry a massive wake-up call and he starts to face up to what he's done and his journey to redemption begins.<br/>It's a long journey too, during which his work as a Nixon scholar and author takes him closer to the disgraced President than he thought he would get. His re-evaluation of Nixon causes Harry to also look at his own life, work and what he actually needs in this World as opposed to what the American Dream is telling him he needs. Sometimes the Nixon analogies get in the way and Homes lays the satire on a bit thick. It's also annoying as that sub-plot means another showing for the clipped Asian accents-I'm all for realism, but when it's used to voice a character who was born in the US, achieved a high standard of education and is hired to work with the printed word, it's lazy and leaves a nasty taste in the mouth as you read it.<br/>When it comes to the supporting characters, several are definitely surplus to requirements, as are a few of the bizarre scenarios that Harry finds himself involved in (and readers will know exactly what I mean when I say 'The Woodsman'...why Homes...why?) and I felt this dragged the narrative about Harry's journey down. Also, for a novel so grounded in the harsh realities of life (no matter how daft, they do happen) the two instances of 'magic' jar and are out of place; whilst one is an understandable metaphorical narrative device, the other is forced.<br/><br/>As a commentary on all that's wrong with the Western world, it works well: can't solve your problems-take medication, the key to happiness is a massive tv, elderly and those with mental health problems either locked away and forgotten about or treated like lab rats, the threat of bad publicity worse than the welfare of an 11 yr old girl and Homes weaves these opinions into the story well.<br/><br/>Other reviewers have commented on the novel's almost 'Disneyesque' ending and while I can see their point, I did kind of like it: hasn't everyone got an Aunt Lillian, totally devoid of tact, opening her mouth and saying just the wrong thing at the wrong moment? <br/><br/>Without giving too much away, Harry's redemption is hard-earned, but well-deserved, if only it was better edited and with less of the 'Mickey Rooney School of Asian Depiction'.
Review by Daftboy1
27/08/2015
I am so glad to finish this book, it was starting to bore me. It was too busy, to jewish and to many references to Richard Nixon. I didnt find the characters believable and didnt really like them. I so wanted to enjoy this book but I didn't it was a relief to finish it.
Review by alexrichman
27/08/2015
An oddly enjoyable read, if rather disjointed. Jet-black comedy at the start, soft satire in the middle and, in the end, a schmaltzy ode to family. The book borrows from White Noise - Don DeLillo even has a few cameos - but, where that novel is filled with a sense of dread, this is a dementedly uplifting tragedy.