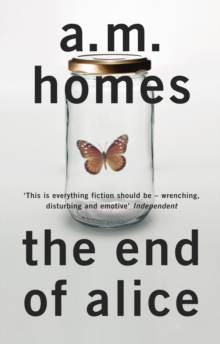 The End of Alice
Paperback
Description
The End of Alice treads the thin line between the evil and the everyday and caused a major controversy when it was first released in the US.
The story centres on the correspondence of two paedophiles: one, the narrator, is a middle-aged child-killer serving his twenty-third year in prison; the other, his slang-speaking, sweet-seeming admirer, is a nineteen-year-old girl intent on seducing a young neighbourhood boy.
Slowly, through these letters, the narrator's dangerous character emerges.
Information
Format: Paperback
Pages: 256 pages
Publisher: Granta Books
Publication Date: 01/04/2013
ISBN: 9781847087256
Free Home Delivery
on all orders
Pick up orders
from local bookshops
Reviews
Showing 1 - 2 of 2 reviews.
Review by jaddington
16/06/2015
WARNING: HORROR NOVEL. EVERY PARENTS NIGHTMARE. <br/><br/>I just thought I should make that (the above) very clear.It starts out innocently enough a letter to a prisoner. But then the story evolves into something terrible, horrible. And lots of gruesome. Have I made it clear? This book is about a pedophile. A old one in prison and a new one...free. Your asking why did you read this? I do not know. I though "oh it is less than 300 pages, it should be a quick read and it will be like a Dateline episode". Well, it was a quick read; once I started this was not something I wanted lingering around. You could have put it down you say. I could have. But I chose not to. The subject (at one point I considered vomiting) is repulsive. It is not something we should look away from. Hide from. Not talk to our children about. IGNORE. It is scary.<br/><br/><spoiler> the fact the author chose to make the object of one sexual predator a boy hits home, I have a boy </spoiler><br/><br/>And it it not a nice clean sanitized Dateline episode. This is raw in your face sexual violence. This folks is the sad reality. It made me think of the documentary I watched on PBS about the camps of pedophiles in the woods in Florida. <br/><br/>One blurb on my book calls this a "love story". The Los Angeles times can FUCK OFF. Love story?! That is not okay. This is absolutely not a love story. Not at all. And if we fool ourselves into thinking that well, I am scared for all of us. <br/><br/>About the book, the writing you ask? I can say it was well done. I am not sure that I would really recommend this anyone I know. I advise to read at your own risk. I have nothing to offer. I feel like bathing in bleach after this one. <br/><br/>And yes. I gave it a high rating. It was thought provoking. Made me want to vomit. Made me want to educate my child better. These are the monsters we should worry about. The ones that walk among us. In order to know them better we cannot ignore them. We owe our children that. <br/><br/>
Review by jaddington
16/06/2015
WARNING: HORROR NOVEL. EVERY PARENTS NIGHTMARE. <br/><br/>I just thought I should make that (the above) very clear.It starts out innocently enough a letter to a prisoner. But then the story evolves into something terrible, horrible. And lots of gruesome. Have I made it clear? This book is about a pedophile. A old one in prison and a new one...free. Your asking why did you read this? I do not know. I though "oh it is less than 300 pages, it should be a quick read and it will be like a Dateline episode". Well, it was a quick read; once I started this was not something I wanted lingering around. You could have put it down you say. I could have. But I chose not to. The subject (at one point I considered vomiting) is repulsive. It is not something we should look away from. Hide from. Not talk to our children about. IGNORE. It is scary.<br/><br/><spoiler> the fact the author chose to make the object of one sexual predator a boy hits home, I have a boy </spoiler><br/><br/>And it it not a nice clean sanitized Dateline episode. This is raw in your face sexual violence. This folks is the sad reality. It made me think of the documentary I watched on PBS about the camps of pedophiles in the woods in Florida. <br/><br/>One blurb on my book calls this a "love story". The Los Angeles times can FUCK OFF. Love story?! That is not okay. This is absolutely not a love story. Not at all. And if we fool ourselves into thinking that well, I am scared for all of us. <br/><br/>About the book, the writing you ask? I can say it was well done. I am not sure that I would really recommend this anyone I know. I advise to read at your own risk. I have nothing to offer. I feel like bathing in bleach after this one. <br/><br/>And yes. I gave it a high rating. It was thought provoking. Made me want to vomit. Made me want to educate my child better. These are the monsters we should worry about. The ones that walk among us. In order to know them better we cannot ignore them. We owe our children that. <br/><br/>