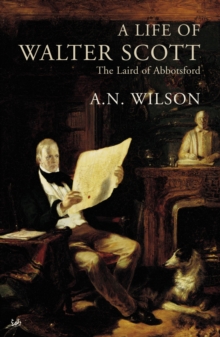 A Life Of Walter Scott
Paperback
Description
I have read all W. Scott's novels at least fifty times,' wrote Byron. '...grand work. Scotch Fielding, as well as great English poet - wonderful man! I long to get drunk with him.' A. N. Wilson's subtle, entertaining and frequently provocative critical biography looks back through the indifference which has surrounded Walter Scott in recent times, and the distortions of his Victorian idolaters, to recapture the freshness of Scott as he appeared to his contemporaries.
Despite his staggering output as a novelist, poet, biographer, historian and anthologist - not to mention his copious letters, and the celebrated Journal - Scott only embarked on his literary career in early middle age. In the face of constant ill-health, and financial and domestic troubles, he successfully combined the life of a bestselling, much-loved and enormously influential author with that of a lawyer, landowner, Border farmer, part-time soldier and paterfamilias. A. N. Wilson makes clear that Scott's genius, his humaneness, and his splendid qualities of stoicism and sympathy were as apparent in his life as in his work. By weaving together the life and the works, and discussing all Scott's best-known books as well as many which are less familiar, A.
N. Wilson has produced a lively and contagiously enthusiastic reassessment of the writer who was, he believes, 'the greatest single imaginative genius of the nineteenth century'. Walter Scott's influence was felt not only in the field of literature, but also in the worlds of art, architecture, opera and domestic manners, and by figures as diverse as Byron and Queen Victoria, Dickens and Donizetti, Pugin and Victor Hugo.
Winner of the John Llewelyn Rhys Prize.
Information
Format: Paperback
Pages: 224 pages
Publisher: Vintage Publishing
Publication Date: 05/09/2002
Category: Biography: general
ISBN: 9780712697545
Free Home Delivery
on all orders
Pick up orders
from local bookshops
Reviews
Showing 1 - 1 of 1 reviews.
Review by Eyejaybee
16/06/2015
I remember being taken around Abbotsford as a very young boy, maybe forty years ago now, during a family holiday in Scotland. With the exception of the gun room, which naturally had delicious appeal to a nine year old lad, I remember finding it a very gloomy place (despite its glorious setting) and I felt some relief when we left and headed on up towards Edinburgh. Apart fom looking at some of his poetry, reading Ivanhoe as a student and dabbling (without much application) in the Waverley sequence, I haven't had much to do with Scott since. Indeed, I picked up this biography on holiday in Scotland more from a lack of alternative reading material on offer than from a desire to learn more about Scott..However, learn I certainly did. Wilson's book is immensely informative but he maintains a light and engaging touch, giving the reader a sense of his own enthusiasm for Scott and his works, and I shall definitely be revisiting Waverley very shortly.What struck me most vividly about Scott (and this would be equally true of Dickens later in the nineteenth century) was his sheer productivity. Scott didn't publish anything until he was thirty-one, and heathen went on to produce reams and reams of verse (lyric and epic) and some thirty novels, while not neglecting his professional legal duties form his "main" career. Wilson pays due homage to all this while never falling prey to the turgidity so often (unfairly) ascribed to Scott himself.I finished reading this book with that particular sense of pleasure that comes from having embarked on a venture with low expectations but finding them hugely surpassed!