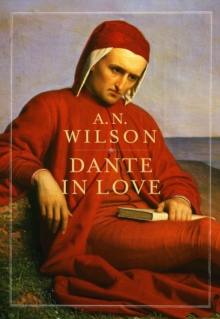 Description
For Yeats, Dante Alighieri was 'the chief imagination of Christendom'; for Eliot he was of supreme importance, both as a poet and philosopher; Coleridge championed his introduction to an English readership.
Tennyson based his poem 'Ulysses' on lines from the Inferno and Byron chastised an 'Ungrateful Florence' for exiling him.
The Comedy resonates across five hundred years of our literary canon.
In Dante in Love, A N Wilson presents a glittering study of an artist and his world, arguing that without an understanding of medieval Florence, it is impossible to comprehend the meaning of Dante's great poem.
He explains how the Italian States were at that time locked into violent feuds, mirrored in the ferocious competition between the Holy Roman Empire and the papacy.
He explores Dante's preoccupations with classical mythology, numerology and the great Christian philosophers which inform every line of the Comedy.
Dante in Love also lays bare the enigma of the man who never wrote about the mother of his children, yet immortalized the mysterious Beatrice, whom he barely knew. With a biographer's eye for detail and a novelist's comprehension of the creative process, A N Wilson paints a masterful portrait of Dante Alighieri and unlocks one of the seminal works of literature for a new generation of readers.
Information
Format: Hardback
Pages: 400 pages
Publisher: Atlantic Books
Publication Date: 01/06/2011
Category: Biography: literary
ISBN: 9781848879485
Other Formats
Hardback from £11.59
Paperback from £8.85
EPUB from £7.59
Free Home Delivery
on all orders
Pick up orders
from local bookshops
Reviews
Showing 1 - 2 of 2 reviews.
Review by jcbrunner
16/06/2015
The books of prolific British author A. N. Wilson suffer from his personal immersion into his subjects. It is often unclear whether an idea is Wilson's or his subject's. This problematic approach blew up in the author's face with his most recent work, a biography about Adolf Hitler which has been shown to include many fabrications and figments of the author. Strangely, this unnecessary and flawed thruthy work will be issued in paperback soon.Fortunately, "Dante in love" is both better sourced and based upon (lifelong) research. Still, it is Wilson in love with Dante in love, so the Wilsonian obsession with Catholic faith and sexuality is transposed upon Dante whose weird relationship with Beatrice certainly offers a wide target. Imprinted as a nine year old with the beauty of Beatrice which is refreshed nine years later, Dante developed a Justin Bieber-like platonic obsession about his first crush, a weird sexual asexual attraction similar to many a priest's devotion to the Virgin Mary. The mysterious ways to produce great art.The value of Wilson's book lies in his erudite portrait of Florence and its society around the turn of the 13th century. Dante's Divine Comedy is filled with gossip about Dante's friends, enemies and contemporaries which a modern reader fails to understand without a guide. While a close reading of the Comedy will require further annotations, Wilson's biography and discussion of his work offers a good introduction and incentive to discover more about the father of the Italian language.
Review by aadyer
16/06/2015
A different accompaniment to "The Divine Comedy" & at times almost inaccessible despite the author's statements to the contrary. A lot has been said about Dante & even more speculated upon & this book does make a little easier to see through that morass. I had read the Divine Comedy with reading notes in English. If I had not, I'm not sure much of this would have readable with any degree of understanding in the lay reader. For true devotees & academic researchers only