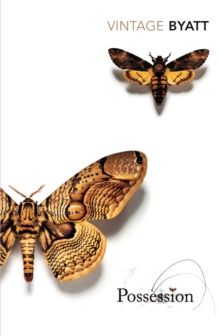 Possession : A Romance
Paperback
Description
The perfect gift for Valentine's DayPossession is an exhilarating novel of wit and romance, at once a literary detective novel and a triumphant love story.
It is the tale of a pair of young scholars investigating the lives of two Victorian poets.
Following a trail of letters, journals and poems they uncover a web of passion, deceit and tragedy, and their quest becomes a battle against time.
Information
Format: Paperback
Pages: 624 pages
Publisher: Vintage Publishing
Publication Date: 02/08/2007
ISBN: 9780099503927
Free Home Delivery
on all orders
Pick up orders
from local bookshops
Reviews
Showing 1 - 2 of 2 reviews.
Review by camillahoel
16/06/2015
A.S. Byatt knows literary studies. <i>Possession</i> is possibly the best description of the best and worst of the discipline that I have ever come across. She accurately captures the thrill of holding in your hands an old edition with a particular history, the uncovering of that piece which not everyone has already seen. The whole book is an exploration of that slow uncovering which historical research is all about, the story that changes and shifts as new information is introduced; and the active creation of an interpretation. Together they make up the best of this discipline. And then there is the scathing parody of both extremes of authorial focus: the biographically oriented, and the sexual/feminist/psychoanalytical, both of which plague the discipline in their attempts to capture and speak for the author. Strangely, this was never how the book was presented to me whenever people tried to get me to read it. The emphasis was always on the developing relationship between the academics in parallel with that of the authors they study. This to me was a side point. I read the book as more of a love letter to a discipline than as a love story. But it is both, of course. The story starts with the discovery of a love letter, and continues as two academics search out clues as to the development of it in the various texts produced around the 100 year-old love story. All the while surrounded by helpers and opponents in a configuration that would make Greimas drool. I was also struck by how fragmented it was. The only other Byatt I have read is <i>The Children's Book</i>, and that felt very <i>organic</i> in how it flowed and moved. <i>Possession</i> is nothing like that. No novel based in an exploration of letters can be, and Byatt seems to have decided to take it to another extreme by including as many forms of writing as possible. I think the only form she skipped was drama. The book is infamous for the poems. And to a great extent I was annoyed by Byatt's insertion of poetry (although less here than in <i>The Children's Book</i>). I tried to analyse why I feel this way, and I suspect it derives in part from the illusion of personal communication which still adheres to lyric poetry (I noticed, for example, that I had considerably less against the epic style poems, and those that had an ironic voice).But it is also tied up with Byatt's tendency to set herself up for interpretation. I like interpreting poetry, but I like it less when there are such clear lines laid down for <i>how</i> I should interpret it. Byatt <i>controls</i> the interpretation by hedging narrative around poetry, by surrounding it with scholarly discussion and providing the thoughts and debates of the "authors" in letters. All of which is written by her. It is a tour de force in writing, but it makes the poetry itself lose what usually makes poetry interesting. That said, I am very aware that my resistance to the poetry is very much a subjective, emotional reaction to something I perceive as tautological. I know the poems are an integral part of this book, and as it progressed I stopped reacting negatively to them. In a book about poets, which celebrates the different styles of writing to such an extent, it would have been wrong to omit them. Of other forms, I counted the short story, the personal letter (of course), the less personal letter, diaries, biographical studies of an author, psychoanalytical feminist studies of texts, and of course the controlling and analysing narrator which I have now come to expect from Byatt. The more I read, the more I appreciated the variety in writing styles and how they forced me to all the while see the narrative from a different perspective (as change of style inevitably involved the introduction of new information as well). I was also fascinated by the continual references to spiritualism. It ties in with the problem of trying to access the author, which I see as the central problem of the book: when the author is dead (figuratively and actually), the motif of spiritualism becomes a very telling one. It makes Cropper and Leonora Stern (both, but him especially) analogous to the table-rappers, ties them to the presumption of speaking <i>on behalf of</i> someone absent. There is more to say on this, but I don't want to spoil the book for anyone. The development of the narrative(s) is a central part of the experience. I will say that Byatt has now gained my confidence. This means I will probably look up more books by her, hoping that I have not already read her two best ones.
Review by bodachliath
16/06/2015
It took me a long time to get round to reading this, but it is another example of a book which deserves all the hype. A glorious mixture of styles and highly realised pastiches, driven by a compulsive plot, but never afraid to indulge in lengthy and entertaining digressions. After reading this I sought out all of her other novels, which are all rewarding in different ways.