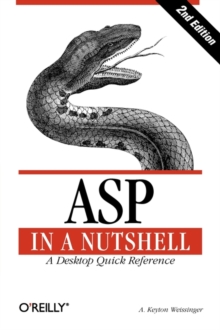 ASP in a Nutshell : A Desktop Quick Reference
Paperback
Description
ASP in a Nutshell provides the high-quality reference documentation that web application developers really need to create effective Active Server Pages.
It focuses on how features are used in a real application and highlights little-known or undocumented features.
This book also includes an overview of the interaction between the latest release of Internet Information Server (version 5) and ASP 3.0, with an introduction to the IIS object model and the objects it comprises.
The examples shown in this section and throughout the book are illustrated in VBScript.
The main components of this book are: *Active Server Pages Introduction.
Brief overview of the ASP application paradigm with examples in VBScript.
Also included is an introduction to Microsoft's Internet Information Server 5.0, the IIS object model, and the objects that it comprises. *Object Reference. Each object is discussed in the following manner: descriptions, properties, collections, methods, events, accessory files/required DLLs, and remarks, including real-world uses, tips and tricks, and author's experience (where applicable). The objects--Application, Response, Request, Server, Session, ObjectContext, and ASPError, as well as ASP Directives, Global.ASA, and Server-Side Includes--all follow this paradigm. *Component Reference. This section follows the same paradigm found in Object Reference.
The discussion covers all of the additional components included with IIS, such as ActiveX Data Objects, the Ad Rotator, the Browser capabilities component, the File System Object, and more. *Appendixes. Gives examples in one or two objects and components using Perl, REXX, and Python in ASP. Like other books in the "In a Nutshell" series this book offers the facts, including critical background information, in a no-nonsense manner that users will refer to again and again.
It is a detailed reference that enables even experienced web developers to advance their ASP applications to new levels.
Information
Format: Paperback
Pages: 494 pages, 1, black & white illustrations
Publisher: O'Reilly Media, Inc, USA
Publication Date: 04/07/2000
Category: Internet guides & online services
ISBN: 9781565928435
Free Home Delivery
on all orders
Pick up orders
from local bookshops
Reviews
Showing 1 - 2 of 2 reviews.
Review by irishkitsune
16/06/2015
This book has ever been by my side since about 1998. It is an excellent reference to the standard objects provided in ASP, as well as ADO, file system, and others. If you do ASP on a daily basis, this is a great reference to have around, and I always make sure it's at my desk.
Review by aethercowboy
16/06/2015
ASP is one of many tools that tries to solve a problem. That problem is: The internet is boring when static.There are other solutions out there, such as CGI or PHP, but Microsoft had to enter its candidate into the ring, and as such, ASP was born. ASP stands for "Active Server Pages." With ASP, you can create pages that have dynamic, server-side content, regardless of the browser capabilities of the client. And it's as easy as putting blocks of code into your regular HTML files.This book is a comprehensive guide to ASP. It will tell you pretty much anything you need to know to use it. Granted, nowadays, we have something called ASP.NET, which is much, much better, if you're working on ancient webservers, you'll probably have to wrangle ASP without a .NET. For those such situations, this book is great.I hate Visual Basic, a language that should have been outlawed by the Geneva Convention. This book presents most code snippets in Visual Basic, as since it's another product of Microsoft, the two go hand-in-hand. Fortunately, the book says you can use other languages (Which you can also do in .NET), but does very little to tell you all about that.This book, being a product of O'Reilly, is the cream of the crop when it comes to technical manuals, but as such, I would only recommend you get it if you're dealing with plain old (and I mean old) ASP. O'Reilly, being the pinnacle of technical publishers, has a collection of books for the latest and greatest flavor, too.
Also in the In a Nutshell S. series | View all