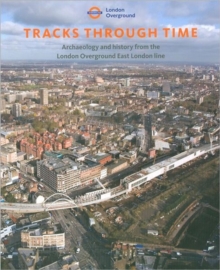 Tracks through Time
Paperback / softback
Description
The East London Line Project presented a unique opportunity, as structures were demolished and cleared for London's latest railway, to discover more about some of London's earliest railways.
This included previously undiscovered parts of one of the world's first operational passenger railways, the Eastern Counties of 1840. The new construction led to important archaeological discoveries, particularly at the site of Holywell Priory and beneath Bishopsgate Goods Yard in Shoreditch.
The sparsely occupied hinterland of Roman London either side of Roman Ermine Street was used for occasional burials.
Gradual medieval development came with the foundation of Holywell Priory on one side of Shoreditch High Street, contrasting with the outskirts of the village of Shoreditch lining the other, with open fields to the east.
The growth of early post-medieval occupation, notably the earls of Rutland's Tudor mansion on the site of the priory, followed the Dissolution.
The spread of the suburbs from the 17th century onwards encouraged large-scale quarrying of brickearth and brickmaking on the expanding periphery of new settlement, east of Shoreditch High Street.
By the mid 18th century the character of the area had completely changed and it was covered with suburban housing.
In the early 19th century, the railway cut through the area and continued to develop and expand throughout the century.
Information
Format: Paperback / softback
Pages: 64 pages, col illus
Publisher: Museum of London Archaeology
Publication Date: 22/01/2010
Category: Archaeology by period / region
ISBN: 9781901992878