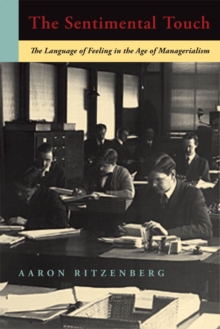 The Sentimental Touch : The Language of Feeling in the Age of Managerialism
Hardback
Description
Between 1850 and 1940, with the rise of managerial capitalism in the United States, the most powerful businesses ceased to be family owned, instead becoming sprawling organizations controlled by complex bureaucracies.
Sentimental literature-work written specifically to convey and inspire deep feeling-does not seem to fit with a swiftly bureaucratizing society.
Surprisingly, though, sentimental language persisted in American literature, even as a culture of managed systems threatened to obscure the power of individual affect. The Sentimental Touch explores the strange, enduring power of sentimental language in the face of a rapidly changing culture.
Analyzing novels by Harriet Beecher Stowe, Mark Twain, Sherwood Anderson, and Nathanael West, the book demonstrates that sentimental language changes but remains powerful, even in works by authors who self-consciously write against the sentimental tradition.
Sentimental language has an afterlife, enduring in American literature long after authors and critics declared it dead, insisting that human feeling can resist a mechanizing culture and embodying, paradoxically, the way that literary conventions themselves become mechanical and systematic.
Free Home Delivery
on all orders
Pick up orders
from local bookshops