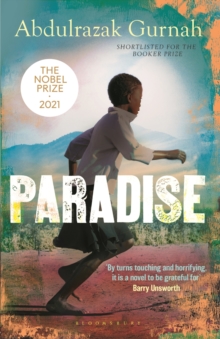 Description
Born in East Africa, Yusuf has few qualms about the journey he is to make.
It never occurs to him to ask why he is accompanying Uncle Aziz or why the trip has been organised so suddenly, and he does not think to ask when he will be returning.
But the truth is that his 'uncle' is a rich and powerful merchant and Yusuf has been pawned to him to pay his father's debts, Paradise is a rich tapestry of myth, dreams and Biblical and Koranic tradition, the story of a young boy's coming of age against the backdrop of an Africa increasingly corrupted by colonialism and violence.
Information
Format: Paperback
Pages: 256 pages
Publisher: Bloomsbury Publishing PLC
Publication Date: 01/11/2004
ISBN: 9780747573999
Free Home Delivery
on all orders
Pick up orders
from local bookshops
Reviews
Showing 1 - 2 of 2 reviews.
Review by cestovatela
16/06/2015
Yusuf is only 7 years old when he is given to a wealthy merchant to repay his family's debts. He is never beaten, overworked or even treated unkindly but the fact remains that he is a slave -- even though he (and we) will not understand this until much later in the novel. This book is exactly what I hope for when I read international literature. It contains everything I look for in a book: lush, descriptive prose, realistic characterization and a story line that addresses ideas significant to humanity but leaves you with plenty of room to analyze and interpret on your own. At the same time, it offers me an opportunity to deepen my knowledge about another corner of the globe. Abdulrazak Gurnah's East Africa is a vibrant confluence of multiple religions and cultures. What emerges is a portrait of a society that can be both beautiful and inhumane, one where colonialism is just one more facet of already-ingrained local prejudice and cruelty. Reading this book was hard at times, but the beautiful language always salved the occasional rawness of the subject matter. I felt absorbed through the whole novel and I really admired the way the author let the story speak for itself rather than moralizing at the end. I will be checking out more of Abdulrazak Gurnah's work.
Review by MacHaniff
16/06/2015
First time I read this work by Abdulrazak Gurnah. Very well written by this African writer. It's about a story of Yusuf, an East African boy who was taken by his Uncle Aziz from his family to work for him. A curious boy, Yusuf meet few characters that influences how he sees things in life. Would be great to see this become a movie one day!