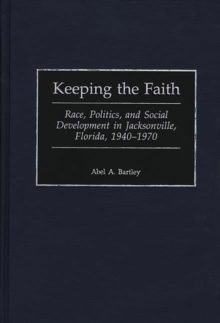 Keeping the Faith : Race, Politics, and Social Development in Jacksonville, Florida, 1940-1970
Hardback
Description
An examination of the political and economic power of a large African American community in a segregated southern city; this study attacks the myth that blacks were passive victims of the southern Jim Crow system and reveals instead that in Jacksonville, Florida, blacks used political and economic pressure to improve their situation and force politicians to make moderate adjustments in the Jim Crow system.
Bartley tells the compelling story of how African Americans first gained, then lost, then regained political representation in Jacksonville.
Between the end of the Civil War and the consolidation of city and county government in 1967, the political struggle was buffeted by the ongoing effort to build an economically viable African American economy in the virulently racist South.
It was the institutional complexity of the African American community that ultimately made the protest efforts viable. Black leaders relied on the institutions created during Reconstruction to buttress their social agitation.
Black churches, schools, fraternal organizations, and businesses underpinned the civil rights activities of community leaders by supplying the people and the evidence of abuse that inflamed the passions of ordinary people.
The sixty-year struggle to break down the door blocking political power serves as an intriguing backdrop to community development efforts.
Jacksonville's African American community never accepted their second-class status.
From the beginning of their subjugation, they fought to remedy the situation by continuing to vote and run for offices while they developed their economic and social institutions.
Information
Format: Hardback
Pages: 208 pages
Publisher: ABC-CLIO
Publication Date: 30/04/2000
Category: History of the Americas
ISBN: 9780313310355
Free Home Delivery
on all orders
Pick up orders
from local bookshops