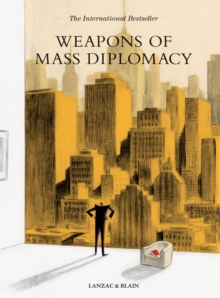 Weapons of Mass Diplomacy
Hardback
Description
Paris, 2002. Arthur Vlaminck, a young civil servant, lands an impressive first job as the speechwriter for Alexandre Taillard de Vorms, the French Minister of Foreign Affairs at the Quai d'Orsay.
Vorms is no simple man. A refined and driven intellectual, he loves Napoleon, frequently quotes classical poetry and philosophy - and if he bears more than a passing resemblance to the real Foreign Minister at the time, Dominique de Villepin ...well, the authors couldn't possibly comment.
As the imposing doors of politics and diplomacy swing open, Vlaminck is thrown into a world of large egos, high stress, and low cunning - and tasked with drafting France's response to a growing international crisis in the Middle East for de Vorm's mission to the United Nations.
Spanning the run-up to an invasion, we see in painful - and often hilarious - detail the inevitable clash between Gallic reluctance and American assurance over the case for Weapons of Mass Destruction - a period that sees French fries become "freedom fries" and a line from The Simpsons about "cheese-eating surrender monkeys" gain international currency. A tale of French diplomacy, Ancient Greek divinities, and the seemingly intractable problems of the Middle East, Weapons of Mass Diplomacy is an internationally bestselling, award-winning graphic novel that provides a profound, informed, and often very funny portrait of how "stuff happens" behind the closed doors of the Quai d'Orsay.
Information
Format: Hardback
Pages: 200 pages, Colour
Publisher: SelfMadeHero
Publication Date: 17/04/2014
Category: Comics and Graphic Novels
ISBN: 9781906838782
Free Home Delivery
on all orders
Pick up orders
from local bookshops
Reviews
Showing 1 - 2 of 2 reviews.
Review by kivarson
27/08/2015
As the emerging conflict between the United States and the Middle Eastern country of Khemed (Iraq) threatens to blow up into a Third World War, one small team of diplomats, under the leadership of the charismatic yet domineering French Foreign Minister Alexandre Taillard de Vorms, feverishly works to avert this catastrophe. The dynamics of this team can be seen as a microcosm of the difficulties of international diplomacy itself; fragile egos, petty feuds, backstabbing and favoritism complicate the delicate work of maintaining geopolitical stability. This engaging satire comes was originally published in France. Although attributed to Abel Lanzac, this graphic novel was written by the diplomat Antonin Baudry, who worked under the French Foreign Minister Dominique de Villepin in the early 2000s. The illustrations convey the immediate urgency, futility and irony of working in diplomacy.
Review by jasonli
16/06/2015
"Weapons of Mass Diplomacy" is a lightly-fictionalized account of Lanzac's experience as special counselor and speech writer for French Foreign Minister Taillard de Vorms during the eve of the 2003 Iraq War. The account has been embellished and illustrated by Blain, who brings out the energy and humor of the situation."Weapons of Mass Diplomacy" offers an incredible, and possibly unparalleled, look at the work of a foreign affairs department in a European state government. Yes, everything is exaggerated for humor and melodrama, but at the same time, it feels very real – the office politics, work-life balance struggle and the obscenely personal nature of international diplomacy.