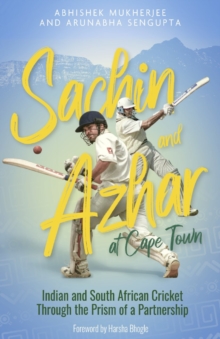 Sachin and Azhar at Cape Town : Indian and South African Cricket Through the Prism of a Partnership
Hardback
Description
Sachin and Azhar at Cape Town is the story of an incredible partnership between Tendulkar and Azharuddin in the Newlands Test of 1997.
Replying to 529, India slumped to 58/5 against Donald, Pollock, McMillan and Klusener.
What followed was an exhilarating counter-attack from both ends, seldom seen in Test cricket.
With Nelson Mandela watching on - he met the players during lunch that day - the pair added a magical 222 in 40 overs, treating the lethal bowling attack with disdain.
Arunabha Sengupta and Abhishek Mukherjee relive the partnership, recounting and analysing every stroke, but as they do, they also bring to life the cricket, history and society of the two countries.
Covering a multitude of topics as diverse as apartheid, Mandela and Gandhi, Indians in South Africa; cricket isolation and non-white cricket in South Africa, rebel tours; the television revolution and commercialisation of cricket; with other historical details and numerical analysis of the game supporting the text, this is a fascinating snapshot of cricket at that time through the prism of that impressive sixth-wicket stand.
Information
Also by ABHISHEK MUKHERJEE