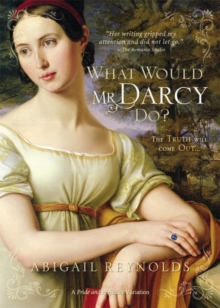 What Would Mr Darcy Do
Paperback
Description
But what if Darcy hadn't immediately left the inn? What if Elizabeth Bennet and Fitzwilliam Darcy had chosen to speak their feelings rather than to assume the worst about the other?
Jane Austen's beloved characters are given the opportunity to reach out one last time before they part.
While their path forward is still filled with misadventures and misunderstandings it is rich with humor, romance, and sensuality as they learn about each other and the meaning of love. But there's still a scandal threatening to engulf the Bennet family, and Elizabeth can't be sure that Darcy's love for her could withstand such a blow.
Determined to give Darcy up rather than drag his name through the mud, Elizabeth will have to choose for herself between what she believes is right, and what she wants more than anything...
Information
Format: Paperback
Pages: 240 pages
Publisher: Sourcebooks, Inc
Publication Date: 01/04/2011
Category: Historical romance
ISBN: 9781402240935
Free Home Delivery
on all orders
Pick up orders
from local bookshops
Reviews
Showing 1 - 3 of 3 reviews.
Review by blodeuedd
16/06/2015
My thoughts:This was another lovely Jane Austen variation from Abigail Reynolds. It was sweet, and it made me smile.In this one the story takes a slight turn at that day at the Inn in Lambton. Instead of him going away at once they talk a bit, she cries a bit, and there is a promise to see each other again. What we have next is Bingely showing up to court Jane, Georgiana writing letters to Elizabeth, and Darcy pining over Lizzy. There are no big surprises or changes, but instead it's a closer look at this couple.Mr Darcy in this one is lovely, absolutely lovely. He is violently in love as Mrs Gardiner says to Lizzy, and he is just so so, yes in love. It's great to see this passionate side of him and the only thing he wants to do is to court her. Lizzy is Lizzy, firm in her opinions but she has fallen for him, and these two together when they sneak away are such a joy to read about.At the beginning this book was so cute, and I just had this big grin on my face. Then it became a bit more passionate (ok passionate for that age), lol, just reading about these two saying each other's given names and kissing was plenty.Conclusion:A lovely re-telling of a story that I just can't get enough of. I would recommend this one to my fellow JA lovers.Rating:Short and nice
Review by mt256
16/06/2015
Abagail Reynolds is one of my favorite authors when in comes to Pride and Prejudice variations. I have read several of her novels and have fallen in love with each one. She takes the question 'what if?' and applies them to the original story line. In this novel, What Would Mr. Darcy Do? Abagail Reynolds addressed the question, What if Mr. Darcy and Elizabeth Bennett were upfront with their feelings for each other at the Lampton Inn?" The storyline takes off in a new direction. Elizabeth and Mr. Darcy both confess to their romantic feelings towards each other and things start to heat up. They are caught in a precarious position by the Gardiners and hard choices have to be made. Although Elizabeth is fond of Mr. Darcy, she does not want to be forced into marriage. Mr. Darcy makes it his mission in life to convince Elizabeth that he is the right man for her. This book was originally published in 2008 under the title, From Lambton to Longbourn. However this was my first time reading this particular variation. I found the story line to be very enjoyable. I like this twist on the original story. I also like that Abagail Reynolds keeps most of the side stories in tact while giving us something completely new. She stays true to the characters and their personalities. Mr. Darcy and Elizabeth both express doubts and misinterpret each other quite a bit. They must learn to overcome it their insecurities, with the help of the Gardiners. Things also become a little hot and steamy between the two. It's not R rated but definitely not PG either. The chemistry between Elizabeth and Mr. Darcy is captivating. Overall this book is a great Pride and Prejudice variation. I adore Abagail Reynolds and I love reading her novels. She definitely gives me my Mr. Darcy fix. If you're a fan of Pride and Prejudice, I would recommend this novel to you. Even if you're not a fan it's still a good read.
Review by tivonut
16/06/2015
Much better than the last but does go slowly at parts. I like the setting and scenes so didn't mind the lag. I liked the story as it just seems like a different way of them getting together. There is a lot of kissing but she left the erotica out. It seemed a much better fit to me.