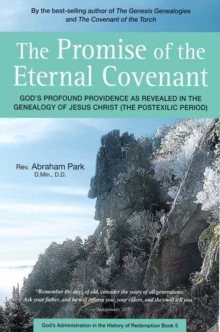 The Promise of the Eternal Covenant : God's Profound Providence as Revealed in the Genealogy of Jesus Christ (Postexilic Period) Book 5
Hardback
Description
Following his remarkable exegesis on the first and second periods of Jesus' genealogy, the best-selling author, in the fifth installment of The History of Redemption series, covers the third and final period, which spans the fourteen generations from the Babylonian exile to Jesus Christ. The Promise of the Eternal Covenant sheds light upon the labyrinth-like history of the 600 years before Jesus' birth.
Throughout the book, Rev. Abraham Park demonstrates that God is sovereign over all history; the rise and fall of nations, kingdoms, and empires occur all according to God's eternal decrees and providence.
His readers will be filled with assurance that God's promise of the Eternal Covenant will certainly be fulfilled.
Key features: Redemptive-historical discussions on the fourteen generations and their names in both biblical languages The generations omitted from the third period of Jesus' genealogy and God's redemptive administration therein Everything you need to know about the Babylonian exile and the return therefrom An amazingly comprehensive chart which delineates: Israel's history and chronology of the kings, prophets, and high priest for this era The chronological, geopolitical, and even redemptive-historical relationships between Israel and the world's superpowers like Assyria, Babylon, Persia, Greece, Rome, and Egypt The continuation of the line of the promised seed toward Christ in the turbulent transitions in world history.
This title is part of The History of Redemption series which includes: Book 1: The Genesis Genealogies Book 2: The Covenant of the Torch Book 3: The Unquenchable Lamp of the Covenant Book 4: God's Profound and Mysterious Providence Book 5: The Promise of the Eternal Covenant
Information
Format: Hardback
Pages: 400 pages
Publisher: Periplus Editions
Publication Date: 08/05/2018
Category: Christianity
ISBN: 9780794608095
Free Home Delivery
on all orders
Pick up orders
from local bookshops
Also in the History of Redemption series | View all