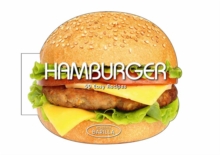 Hamburger: 50 Easy Recipes
Hardback
Description
The inventor of the hamburger appears to have been Louis Lassen of New Haven, Connecticut, who in 1900 prepared and sold the first example of this dish from his lunch wagon.
Since then this patty of ground meat, pressed, grilled and placed inside a soft bun, accompanied with various vegetables, sauces and condiments, has come a long way, spreading globally mainly due to the success of the fast food chains.
Traditionally composed of beef, the dish is now available in endless variations: buffalo, turkey, chicken, kangaroo, reindeer, salmon and even vegetarian and accompanied by various combinations that are more or less creative or related to local traditions.
It is to this dish, today more than ever a symbol of "global" cuisine, that this volume is dedicated, with its original format that reproduces its shape, part of the 50 Easy Recipes series edited by Academia Barilla.
Written with Mario Grazia, chef and gastronomic manager at the Academia Barilla, it offers 50 different ways to make and appreciate a dish that is as simple as it is successful. AUTHOR: In the heart of Parma, recognised as one of the most prestigious capitals of cuisine, the Barilla Center stands in the middle of Barilla's historical headquarters, now hosting Academia Barilla's modern structure.
Founded in 2004 with the aim of affirming the role of Italian culinary arts, protecting the regional gastronomic heritage, defending it from imitations and counterfeits to the great tradition of Italian cooking, Academia Barilla is where great professionalism and unique competences in the world of cuisine meet.
The institution organises cooking courses for those passionate about food culture, offering services dedicated to the operators in the sector and proposing products of unparalleled quality. 60 Colour photographs
Information
Format: Hardback
Pages: 128 pages
Publisher: White Star
Publication Date: 05/11/2015
Category: Cookery dishes & courses
ISBN: 9788854409811