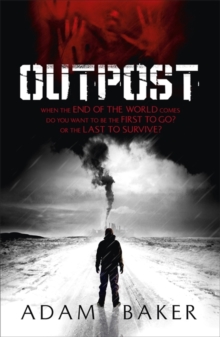 Description
They took the job to escape the world They didn't expect the world to end. Kasker Rampart: a derelict refinery platform moored in the Arctic Ocean.
A skeleton crew of fifteen fight boredom and despair as they wait for a relief ship to take them home.
But the world beyond their frozen wasteland has gone to hell.
Cities lie ravaged by a global pandemic. One by one TV channels die, replaced by silent wavebands.
The Rampart crew are marooned. They must survive the long Arctic winter, then make their way home alone.
They battle starvation and hypothermia, unaware that the deadly contagion that has devastated the world is heading their way...
Information
Format: Paperback
Pages: 400 pages, 1 map
Publisher: Hodder & Stoughton General Division
Publication Date: 04/08/2011
Category: Thriller / suspense
ISBN: 9781444709049
Free Home Delivery
on all orders
Pick up orders
from local bookshops
Reviews
Showing 1 - 2 of 2 reviews.
Review by Amsa1959
16/06/2015
I can´t believe I actually read this book to the end. I think I hoped it would become better... It started ok, I liked the idea of a small group isolated in the snow and ice while the world collapses around them. Well, to begin with I was quite happy with the story but as I read along it got from not so good, to bad, and when I finished it, it was like a bad joke. Don´t read it.
Review by Veeralpadhiar
16/06/2015
Good premise and well executed. This is a good book in PA-Zombie fiction category and is worthy of more attention. On an off-shore refinery platform in the Arctic, the crew is isolated from rest of the world when the apocalypse occurs. This book reads more as a movie script and keeps you turning pages in order to know what happens next. <br/><br/>Yes characters are not as well developed as books from other genre but you have to accept the fact that the aim of this genre is different than others. To put it simply, its main objective is pure enjoyment. If you want to read about more fleshed out characters, go read something from a Nobel laureate of literature.<br/><br/>Now back to this particular book. I really liked how the story arc of some characters, like Rye in particular was developed. And the main male character in the book is an Indian (Rajesh Ghosh aka Ghost) – Sikh to be exact. Our main protagonist, Jane Blanc, is a female who, thankfully for a change, is not a slim and trim beauty with brains but fat and unskilled. Her character develops well as the book progresses. <br/><br/>The end could have been done better but that is just a minor hiccup for otherwise a good work of PA Zombie fiction. <br/><br/><b>3.5 stars.</b><br/>