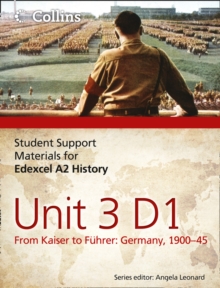 Student Support Materials for History : Edexcel A2 Unit 3 Option D1: From Kaiser to Fuhrer: Germany 1900-45
Paperback
Description
Enable students to succeed in their exam with From Kaiser to Fuhrer.
This study aid contains all the key information that students need for Edexcel History A2 Unit 3 Option D1, clearly laid out with Examiners' and Essential notes.
Also included are graded essays with full comments from experienced examiners on how to secure a higher grade.
From Kaiser to Fuhrer: Germany, 1900-45 covers all the content and skills your students will need for their Edexcel A2 Unit 3 Option D1 examination, including: * Chapter 1: THE SECOND REICH TO 1914 Including - Economic expansion, 1900-14; social divisions, government, constitution and political parties in imperial Germany; domestic politics, 1900-14; the impact of the First World War; the November Revolution, 1918 * Chapter 2: CONTROVERSY A: WAS GERMANY RESPONSIBLE FOR THE FIRST WORLD WAR?Including - The Great Powers and their interests; Weltpolitik and Flottenpolitik; European diplomacy, 1900-14; Germany-blaming interpretations; 'shared guilt' interpretations; overview of Germany's responsibility for the outbreak of war * Chapter 3: THE WEIMAR REPUBLIC, 1919-29 Including - The Spartacist Revolt, 1919; the Weimar Constitution; crisis and survival 1919-24; Stresemann and stabilisation, 1923-9; Weimar culture and society; the 'golden years' of the Weimar Republic * Chapter 4: THE RISE OF THE NAZIS Including - The origins of the NSDAP; the Nazi breakthrough; presidential government, 1930-3; the seizure of power, 1933 * Chapter 5: CONTROVERSY B: HOW POPULAR AND EFFICIENT WAS THE NAZI REGIME, 1933-9? Including - An evaluation of how popular the Nazi regime was; resistance to Nazism; consent and conformity; interpretations of the Nazi state * Chapter 6: LIFE IN WARTIME GERMANY, 1939-45 Including - Morale, opposition and resistance; the war economy; the Holocaust * Chapter 7: EXAM SKILLS * Chapter 8: QUESTIONS AND ANSWERS * Index
Information
Format:Paperback
Pages:144 pages
Publisher:HarperCollins Publishers
Publication Date:07/06/2012
Category:
ISBN:9780007457434