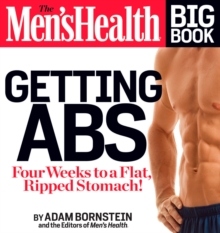 The Men's Health Big Book of Abs
Paperback / softback
Description
Call it a spare tire, paunch or gut. The belly is consistently cited as a guy's biggest problem area, and is often the toughest final pounds to lose.
Not anymore! Whether your eating habits are affected by stress, your body has changed with age, or you're constantly going to the gym without results, it's time to strengthen your core the right way and see results.
A killer six-pack not only looks amazing, it's the key to losing weight all over and keeping it off, forever!
Building off the extremely popular "Big Book of Exercises" series, as well as the tremendous success of "The Abs Diet", this is the latest must-have resource from the experts at Men's Health.
Including a results-driven 4-week eating plan, easy-to-prepare recipes, and hundreds of exercises, "The Men's Health Big Book of Abs" is the ultimate guide to a lean belly, six-pack abs, and total body health, starting with your core.
Information
Format: Paperback / softback
Pages: 400 pages
Publisher: Rodale Incorporated
Publication Date: 24/12/2012
Category: Exercise & workout books
ISBN: 9781609618742