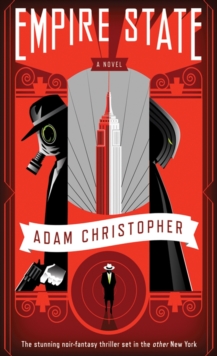 Description
It was the last great science hero fight, but the energy blast ripped a hole in reality, and birthed the Empire State - a young, twisted parallel prohibition-era New York.
When the rift starts to close, both worlds are threatened, and both must fight for the right to exist.
File Under: Science Fiction [Pocket Universe | Heroes or Villains | Speak Easy | Loyalties Divided].
Information
Format: Paperback
Pages: 416 pages
Publisher: Watkins Media
Publication Date: 07/12/2011
Category: Science fiction
ISBN: 9780857661920
Free Home Delivery
on all orders
Pick up orders
from local bookshops
Reviews
Showing 1 - 5 of 6 reviews.
Previous | Next
Review by clfisha
16/06/2015
I love the new flood of genre mash-ups and this is a gem. It opens with a bang too as a gripping car chase rival gangsters is overtaken by a literally explosive fight between two superheroes. For this is prohibition era New York and things are about to get worse (and weird) for PI Rad Bradley, who is about to make a discovery that's going to change everybody's lives forever.Sublimely meshing noir tropes with superhero conventions and twisting your typical mystery plot into a mind bending tale of parallel universes, odd cults, robots, airships, doomsday devices and really hard alcohol. It's a fun, fast paced, mind bending mystery. It has a fantastic sense of place with its rain slicked streets, eerily empty warships, gargantuan mansions and seedy speakeasies and they are all populated with some great characters, luckily my favourite being PY Bradley who really shines here. It's real easy to slip into this world and bring it alive, Christopher manages to walk a tightrope of tricky character reasoning and motivation with a such a fluid setting.I guess being a 1st novel there are some cracks, some of those great characters get lost and some just don't seem to fit. I felt the plot could have done with being a wee tighter or rather pruned/focused as there any dead wood in the thick plot. Personal taste also dictated a desire for a less snake like plot, which gave a me a headache but now I am just nitpicking. I meant it has a robot butler what more do you want?All in all recommend to lovers of a rollicking story with a mind bending plot, sci-fi fans and lovers of noir. Christopher is an author to watch.
Review by riverwillow
16/06/2015
An interesting idea, an alternate universe New York with feuding superheroes. Then I got really confused and the book became very disjointed as I tried to work out who was who, where they were and how these seemingly disparate stories were linked. It did all come together in the end. I like the idea, but I'm not sure how I feel about the book, its not badly written, but I can't work out if its a great book or not.
Review by jen.e.moore
16/06/2015
I really wasn't sure for a long time, but I think I loved this book.
Review by SChant
16/06/2015
Started off quite well - noirish with a bit of steampunk and superheroes - but eventaully seemed to drag. Too many characters, too many bits of plot that didn't make sense. I gave up around the 300 page mark - just couldn't be bothered to finish it.
Review by srearley
16/06/2015
I'm rounding up: rating is more like 3.5 stars. I enjoyed the idea and the plot, but the execution was a little bumpy. THings were very confusing, and I get that they were supposed to be, but...there were several times that I almost put it down. The writing was as little uneven, too, but this was the first book, and I'm willing to give the second one a try.