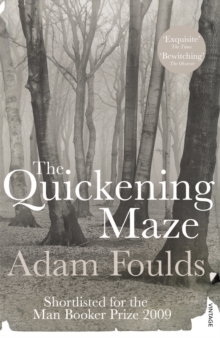 The Quickening Maze
Paperback
Description
Shortlisted for the Man Booker Prize. After a lifetime's struggle with alcohol, critical neglect and depression, in 1840 the nature poet John Clare is incarcerated.
The asylum, in London's Epping Forest, is run on the reformist principles of occupational therapy.
At the same time, the young Alfred Tennyson, moves nearby and became entangled in the life of the asylum.
This historically accurate, intensely lyrical novel, describes the asylum's closed world and Nature's paradise outside the walls: Clare's dream of home, of redemption, of escape.
Information
Format: Paperback
Pages: 272 pages
Publisher: Vintage Publishing
Publication Date: 06/05/2010
ISBN: 9780099532446
Free Home Delivery
on all orders
Pick up orders
from local bookshops
Reviews
Showing 1 - 5 of 6 reviews.
Previous | Next
Review by updraught
16/06/2015
Having bought this book more or less "accidentally" in a 3 for 2 deal package, I was quickly drawn into the slow pace and almost dreamy atmosphere that seems to spread over the pages. An added bonus was the rediscovery of John Clare's poems, the general feeling of which to me seems to be well mirrored in Foulds' novel.
Review by eleanor_eader
16/06/2015
The Quickening Maze is a work of historical fiction centring around the convergence of three fascinating minds at High Beech Private Asylum; the poet John Clare, the Asylum's owner, Dr. Matthew Allen, a gambler and entrepreneur, to whom moderate success is a means to greater; and Alfred Tennyson, who is staying nearby while his brother, Septimus, is under Allen's care. The Tennysons invest heavily in Allen's latest idea; John Clare writhes with a turbulent inner life of mixed identities and confusion of his own past, and Allen attempts to manage the asylum and his unravelling scheme.This novel stopped just shy of being amazing; Clare's extremes of hyper clarity and deep torment were fiercely written, both beautiful and unrelenting, perhaps because the author, too, is a poet. The passages where he wanders off and spends time with the local population of gypsies, or travellers, are particularly expressive (and I loved learning that they call hedgehogs 'hotchiwitchis'). But the identity of the book itself also seemed fractured. Other than John Clare, no one person seemed examined satisfyingly, except perhaps Hannah, Allen's seventeen year old daughter, who I did enjoy a great deal; she was flawed and hopeful and the most real of the characters. My favourite parts were hers, including this berry picking moment:'Here', he offered her his hat'But they'll stain.''The inside. And anyway, what's a hat?'Hannah, trying to respond to the question, found herself suddenly philosophically stumped, her mind full of abstract hat.The other characters, presented in cameo after cameo, failed to provide much interest or illumination. Lionel Shriver is quoted in review as saying of the author 'He draws a walk-on character in a few deft strokes'. Well, yes, he does, I agree, but Foulds also somehow manages to populate the novel with too many characters who are in a limbo between this and real depth. For a book so focused on self identity, this seemed a flaw that stood out more than it might otherwise.
Review by patrickgarson
16/06/2015
This neat, sensual novel by Foulds is unassuming, yet very assured. Paradoxically, there's a lot in it, but at the same time not much. There's no central narrative as such, and the threads he weaves peter out rather than reaching genuine catharsis. It leaves you with a book somewhat like a piece of granite flecked with mica; the sparkles are arresting but you can't really bring them together to make something of it. John Clare, a "peasant poet" has been committed to the asylum of Dr Matthew Allen, following a breakdown that stems from the fiscal and psychological pressures of his lifestyle. Dr Allen is also treating one Septimus Tennyson, brother of up-and-coming poet, Alfred - in addition to perfecting a new machine which will assure his family's future prospects. Other characters drift in and out of these three main narratives, Dr Allen's seventeen year old daughter, the trials of another "patient" Margaret, and Allen's son Fulton. On reflection, it's impressive how many small stories Foulds manages to weave into this slender book - a meagre 250 pages with very generous margins. It may be obvious my summary doesn't include any through-line, as such, and neither does the book, to its ultimate detriment I feel. While all the characters are given a more or less satisfactory amount of closure, it's difficult to pinpoint any over-arching theme to The Quickening Maze, and it gives the book an aimless feel at times.On the positive side, I wouldn't care about closure if the characterisation wasn't so good. Foulds draws his characters with economy but thoroughly. His prose is observational in the main, intimate at times but ever separate. However, it manages to avoid the feeling of coldness this approach can sometimes engender. You care about John, the egotistical Dr Allen, and even the stuffy, grief-struck Alfred.Additionally, Foulds avoids the common poet-turned-novelist mistake of stupidly purple prose. The Quickening Maze is a very tactile book, a real feast for the senses - but never at the expense of pacing, dialogue etc. Again, it comes back to that observational voice; Foulds has an excellent eye, but he limits it to describing what's actually there, avoiding overlong and fantastical extrapolations. The result is a book where you can really feel what the characters are feeling. It's a shame this interesting style wasn't put to use on something a bit more ambitious. The Quickening Maze has its share of passions certainly, but a grander, more vocal vision would have resulted in a more thought-provoking novel. Nonetheless, Foulds is one to watch in the future.
Review by Helenliz
16/06/2015
 I enjoyed this. It's one of those books where nothing much happens, but everything happens. There are no obvious heroes or villains, it's stocked with people doing what people do, some of them are nicer than others, but they're all just human. Set in an asylum where John Clare, the rural poet, is locked up due to his mental instability. For someone used to walking in the open to see the far horizon, this is torture of the worst kind. It also feature his fellow inmates, the asylum's owner and family, Alfred Tennyson and his brother - who's in the asylum for treatment of depression (in effect - they call it melancholia) and other assorted locals. <br/><br/>It's written in a manner that could be seen as disjointed - you get a short chapter of an individuals actions, then move on to someone else. The separate strands start to draw together at the end, but it's not a linear narrative. If you need a plot driven book - this won't appeal - it's far more a gentle meander with snapshots of the world as you pass. The writing was, however, almost poetic in itself, lyrical would describe it.<br/><br/>The book has a way of making you think who is really mad here. Is it John, who thinks he is several people(although usually thinks he's only one at a time)? Is it Margaret, who thinks she's on a mission from God to save souls? Is it Matthew, who allows an idea to consume him utterly? And who gets to judge what is sanity?
Review by bibliobibuli
16/06/2015
I met Adam Foulds recently at an arts festival in Kuala Lumpur and was lucky enough to do a workshop with him on creating character. I felt a bit ashamed of myself that I hadn't read this book already (especially as I usually read the Booker shortlist).I thoroughly enjoyed this novel - the writing was gorgeous, particularly rich in details of the natural world, and had me wanting to reread passages. He has recreated a small slice of history around High Beach Asylum in Epping Forest, run by Dr Malcolm Allen. The poet John Clare is incarcerated there, and Alfred Tennyson is renting a cottage close by since his brother Septimus is also a patient. I had never given much thought to the men behind the poetry, but Foulds opened a window for me into their lives and I found myself wanting to read beyond his novel to find out more about them. (Honestly, did Tennyson smell?) Foulds has so much sympathy for his characters and does so well depicting their inner lives, including the workings of madness. The narrative, which weaves together the stories of several characters is very well handled.