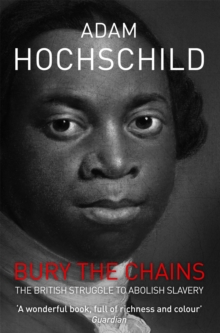 Bury the Chains : The British Struggle to Abolish Slavery
Paperback / softback
Description
Eighteenth-century Britain was the world's leading centre for the slave trade.
Profits soared and fortunes were made, but in 1788 things began to change.
Bury The Chains tells the remarkable story of the men who sought to end slavery and brought the issue to the heart of British political life. 'Hochschild's marvellous book is a timely reminder of what a small group of determined people, with right on their side, can achieve.
Carefully researched and elegantly written, with a pacy narrative that ranges from the coffee houses of London to the back-breaking sugar plantations of the West Indies, it charts the unlikely success of the first international human rights movement' Saul David, Literary Review 'Hochschild is such a gifted researcher and story-teller that he never fails to hold the reader's attention. . . For all its terrible theme, Hochschild's book is not in the least depressing, because it is suffused with admiration for the courage and enlightenment of the men and women who crusaded against this evil, and finally prevailed' Max Hastings, Sunday Telegraph 'Thought-provoking, absorbing and well-written' Brendan Simms, Sunday Times 'Stirring and unforgettable' Economist
Information
Format:Paperback / softback
Pages:480 pages
Publisher:Pan Macmillan
Publication Date:02/02/2012
Category:
ISBN:9781447211365