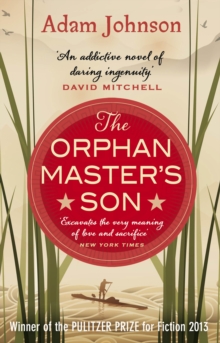 The Orphan Master's Son
Paperback
Description
WINNER OF THE PULITZER PRIZE FOR FICTION 2013 NEW YORK TIMES BESTSELLERNATIONAL BOOK AWARD FINALIST'You know you are in the hands of someone who can tell a story ... fantastic' ZADIE SMITH'Excavates the very meaning of life' New York TimesPak Jun Do knows he is special. He knows he must be the son of the master of the orphanage, not some kid dumped by his parents - it was obvious from the way his father singled him out for beatings.
He knows he is special when he is picked as a spy and kidnapper for his country, the glorious Democratic Republic of North Korea.
He knows he must find his true love, Sun Moon, the greatest opera star who ever lived, before it's too late. He knows he's not like the other prisoners in the camp.
He's going to get out soon. Definitely
Information
Format: Paperback
Pages: 592 pages
Publisher: Transworld Publishers Ltd
Publication Date: 01/02/2013
ISBN: 9780552778251
Free Home Delivery
on all orders
Pick up orders
from local bookshops
Reviews
Showing 1 - 4 of 4 reviews.
Review by clfisha
16/06/2015
Stunningly brilliant dystopia<i> "The key to fighting in the dark is to perceive your opponent, sense him, and never use your imagination. The darkness inside your head is something your imagination fills with stories that have nothing to do with the real darkness around you." </i>This is on one level a very gripping adventure tale of Pak Jun Do, an orphan who survives the horrific famine () to be become a tunnel fighter, a kidnapper and a spy. It also a love story of a Commander Ga and his wife, a torturers story of dissolution and loss, a mad cap caper of diplomatic one-upmanship and the winning tale of the Best North Korean Story.It's a very scary, horrific, hugely funny, utterly gripping, heartfelt and bonkers tale of a very real dystopia. It is a story that carries a stark warning on the evil and power of stories; an anti story in two parts, with different narrators (1st person and third) that create a loving chaotic jumble that works solely as a damn fine story at the same time whetting your intellectual taste buds. Did I mention that is very very well written?<i> "Where we are from, he said, stories are factual. If a farmer is declared a music virtuoso by the state, everyone had better start calling him maestro. And secretly, he'd be wise to start practicing the piano. For us, the story is more important than the person. If a man and his story are in conflict, it is the man who must change....But in America, people's stories change all the time. In America, it is the man who matters." </i>Its trick, for me, is to overcome all the faults I have with dystopian fiction and grab the reader's imagination and thrust it so deeply into a different culture that when you meet Americans for the 1st time your head explodes with the oddity. Johnson draws an amazing sense of place then fleshes it out with tiny details like the shock of a blank wall (sans Dear Leader photo) and imbues it with characters that fit just so. It hooks you in and never lets you rest as it's so packed with plot. It will make you complicit in the lies of the anti-story because we know so much more.. the orphan master's son? sure he is, and then lie to you and twist your expectations (but never cruelly) Of course it depends on what you want from the book. It doesn't have a linear narrative nor is it a factual account of North Korea, research was done and liberties taken. It is at once very dark and insane but not nearly as dark or insane as the reality and if that doesn't give you pause for thought I don't know what will. I guess it could be said to be too clever for its own good but I think that's a matter of taste.I loved this book and I highly recommend it. Literature and story lovers, adventure fiends and Dystopia fans will find something of interest here. Without a doubt one of the best books I have read all year.<i> "Jun Do never looked. He knew the televisions were huge and there was all the rice you could eat. Yet he wanted no part of it - he was scared that if he saw it with his own eyes, his entire life would mean nothing. Stealing turnips from an old man who'd gone blind from hunger? That would have been for nothing."</i>
Review by whitsunweddings
16/06/2015
I've finally figured out why I hated this book so much. It's like Johnson took every North Korean experience he'd read about (kidnapping Japanese citizens, prison camps, the film industry) - I'm pretty sure we've read some of the same books, actually - and decided to cram it all into one stupid epic. It's like a North Korean Forrest Gump. Implausibly daft.
Review by RidgewayGirl
16/06/2015
Adam Johnson's Pulitzer winning novel is an intriguing story of love, despair, hope and pain set in North Korea. Following the life of Jun Do, from his childhood in a grim orphanage, through his life in the military (including some covert operations in Japan and on the sea) to his unlikely rise to the upper ranks of the elite surrounding the Dear Leader. North Korea is possibly the least known part of the world; this certainly isn't another novel set in New York or London. Pyongyang and the tunnels underneath the Demilitarized Zone are less familiar in western literature than the wilds of Antarctica. Despite the exotic setting and alien society, Johnson has written a book with recognizable people, longing for love and desperate to hold onto whatever they have. This is a novel about remaining human under totalitarian control and while it's not a cheerful book, Johnson allows for hope and add a lot of wild and improbable adventures, which work nonetheless, given the already impossible setting.
Review by KymmAC
16/06/2015
Well written, if oddly presented. There was an inconsistency to the narration that was just puzzling, and led to me thinking the implausibilities were just narrative mistakes covered up by these aloof, hard-to-grasp narrators (including the loudspeakers? Really?). Too many untrustworthy narrators for the soup, is what I think. But I did read it all, and was glad Sun Moon (what a stupid name) got away.Wanda's camera pissed me off. And I felt like the mystery narrator feeding peaches to his parents was political, anti-euthanasia posturing.Sigh.