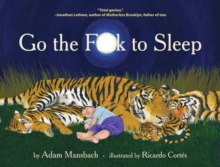 Go the Fuck to Sleep
Hardback
Description
Go the Fuck to Sleep is a bedtime book for parents who live in the real world, where a few snoozing kitties and cutesy rhymes don't always send a toddler sailing off to dreamland.
Profane, affectionate and refreshingly honest, it captures the familiar and unspoken tribulations of putting your child to bed for the night.
Colourfully illustrated and hilariously funny, this is a breath of fresh air for parents new, old and expectant*. (*You should probably not read this to your children.)
Information
Format: Hardback
Pages: 32 pages, Fully illustrated throughout
Publisher: Canongate Books Ltd
Publication Date: 01/06/2011
Category: Child care & upbringing
ISBN: 9780857862655
Other Formats
eAudiobook MP3 from £1.12
EPUB from £5.39
Free Home Delivery
on all orders
Pick up orders
from local bookshops
Reviews
Showing 1 - 5 of 5 reviews.
Review by Smiler69
16/06/2015
It seems that this book has risen to best-seller status thanks to a viral online campaign which 'leaked' pdf images all over the internet prior to the book's release. But however it got to the top spot, I'd say it deserves to be there. One big caveat: if you're easily offended by swear words, I'd say you'd best stay away. But otherwise, this book about an exhausted parent reading a bedtime story to a child who will not go the f**k to sleep, and evidently has been refusing to go the f**k to sleep for a good while now, is hilarious. I'm not a parent, but I've done my share of babysitting and au pairing, and boy, could I relate. The free audio version, which I got via Audible, is narrated by Samuel L. Jackson, and though I may have missed the illustrations (which I hear are very lovely) Jackson's reading of this six-minute little tale is just priceless.
Review by gbill
16/06/2015
I laughed until I cried even after several readings. Written and illustrated as if a kids bedtime book, the text drops in profanity to reveal what many an exhausted parent have thought when at wit's end to make their child, however adored, go to sleep. Hilarious! But not for those who don't like the f-bomb.
Review by snat
16/06/2015
Even though I will vehemently deny it around people who know me, every once in a while I look at all the people who suck in the world and think I owe it to humanity to procreate. Why? Because, and I don't want to undersell this, I really think my children would be awesome. However, there are three primary reasons I have thus far refused to give in to any maternal instincts: 1) pregnancy and childbirth hold no appeal whatsoever as I don't think the whole host/parasite dynamic is that magical, 2) with my luck, my children would be cheerleaders and football players--and I just can't risk that, and 3) I would be the type of parent who would tell my kid to go the f**k to sleep--at least until they had the ability to mimic everything I said. I have proof of this because of the summer I baby-sat my 6 month old nephew. That child may never remember it, but during those two months he heard language normally only uttered by drunken sailors on leave--albeit in a sweet, sing-songy voice. And the only thing I wanted from him all summer was for him to go to frackin' sleep so I could read. That summer I learned why it's called baby-sitting (literally, that's all you can do--sit and watch the baby) and why I probably should not consider being a parent.It's also because of that summer that I can understand the frustration of the narrator in this book. I also highly recommend listening to the audio version narrated by Samuel L. Jackson while reading the book. No one can throw down vulgarities like my man Samuel. He perfectly captures a loving, but tired parent's increasing tension and frustration while trying to coax a young'un into sleep until he finally reaches a Jules "And I will strike down upon thee with great vengeance and furious anger" Winnfield crescendo.
Review by AyleeArgh
16/06/2015
Brilliant. I took note of this satirical children's book immediately upon reading its colourful title, though I was not sure what to make of it until I read a bit about it. Go The F--k To Sleep is meant as a commentary on the sometimes silly bedtime stories parents read to their children to get them to go to sleep. Though I am not a parent myself and could not directly relate to the situation that Adam Mansbach presents, I do have a feel for the frustrations that parenthood can sometimes bring. Adam Mansbach has written a hilarious parody of a children's book that should definitely never be read to an actual child.I listened to the free audiobook at Audible.com. In another stroke of brilliance, they hired Samuel L. Jackson to narrate it. Perfect choice for the narrator of a book that has an F-bomb in its title or what?
Review by vonze
16/06/2015
Maybe I just don't get it because I'm not a parent....read this in less than a minute in the bookstore, mainly to see what all the fuss was about. Basically, if you've read the title you've read the whole book.