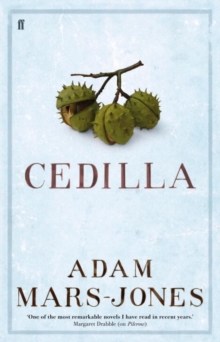 Description
"Cedilla" continues the history of John Cromer begun by "Pilcrow", described by "The London Review of Books" as 'peculiar, original, utterly idiosyncratic' and by "The Sunday Times" as 'truly exhilarating'.
These huge and sparkling books are particularly surprising coming from a writer of previously (let's be tactful) modest productivity, who had seemed stubbornly attached to small forms.
Now the alleged miniaturist has rumbled into the literary traffic in his monster truck, and seems determined to overtake Proust's cork-lined limousine while it's stopped at the lights.
John Cromer is the weakest hero in literature - unless he's one of the strongest.
In "Cedilla" he launches himself into the wider world of mainstream education, and comes upon deeper joys, subtler setbacks.
The tone and texture of the two books is similar, but their emotional worlds are very different.
The slow unfolding of themes is perhaps closer to Indian classical music than the Western tradition - raga/saga, anyone?
This isn't an epic novel as such things are normally understood, to be sure.
It contains no physical battles and the bare minimum of travel, yet surely it qualifies. None of the reviews of "Pilcrow" explicitly compared it to a coral reef made of a billion tiny Crunchie bars, but that was the drift of opinion.
Page by page, "Cedilla" too provides unfailing pleasure.
It's the book you can read between meals without ruining your appetite.
Information
Format: Hardback
Pages: 752 pages
Publisher: Faber & Faber
Publication Date: 20/01/2011
ISBN: 9780571245369
Other Formats
Paperback from £8.65
EPUB from £6.39
Free Home Delivery
on all orders
Pick up orders
from local bookshops
Reviews
Showing 1 - 1 of 1 reviews.
Review by presto
16/06/2015
The second part of a trilogy, Cedilla follows on from Pilcrow with our hero John Cromer taking us through to the completion of his education, now in the mainstream. His education covers his time at grammar school and through to attaining a degree, and along the way includes a spell in India in pursuit of his spiritual interests.This is very much in the same vein as Pilcrow, but on an even larger scale, a marathon read but a marathon that never tires one while it switches between episodes of John's progress through day to day life and digressions into thoughts often of his spiritual quest.John may be physically small and severely restricted as a result of Still's disease, but he has a strength of character more than enough to compensate. He gradually discovers how to achieve what he wants and to use a disadvantage to advantage, including maneuvering the occasional grope of any boy who appeals. His accounts are invariable couched in humour, and are at times moving.However long Cedilla maybe it is not long enough, for I could happily spend some time each day in John's company in the assurance that I will be entertained, enlightened and possibly moved. There are no great dramas or major events, but again that is part of its appeal. Yet the closing pages I found especially moving, and hope it is not too long to wait for the third part of this trilogy to discover where John goes from here.