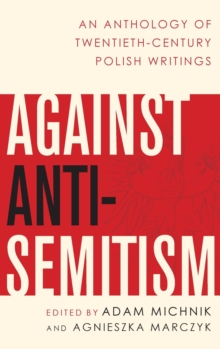 Against Anti-Semitism : An Anthology of Twentieth-Century Polish Writings
Hardback
Description
Anti-Semitism in Poland has always been a deeply problematic subject.
In the years since the Holocaust, much has been written about the willingness of Poles to collaborate with the Nazis, willingly handing over Polish Jews and often profiting from it in the process.
Such assertions have led to a widespread and ongoing stereotype that Poles are a deeply, inherently anti-Semitic people.
In fact, Adam Michnik argues, while there are certainly anti-Semites among Poles,resistance to anti-Semitism is deeply rooted in the culture.
The essays he has gathered in this unique and important anthology-with contributions by a who's who of Polish writers and intellectuals across the decades-both testify to and elaborate on that premise.
Michnik offers an overview of the subject, in which lays out the four myths he argues continue to circulate in Polish thought: that in the eastern territories occupied by the USSR between 1939 and 1941, many Jews collaborated with the occupying authorities; that Jews were only delivered into German hands by Polish criminals; that after 1945 Jews formed the core of the Department of Security and therefore bear the blame for the suffering of the Home Army soldiers in communist Poland; and fourth,that anti-Semitism in Poland today is so marginal as to be almost exotic.
A prologue by poet Czes?aw Mi?osz, winner of the Nobel Prize for literature, focuses on the first third of the 20th century, the period of crisis before the outbreak of World War II.
The essays that follow, including works by,among other leading figures, Maria D?browska, Leszek Ko?akowski, and Jan B?o?ski, include writings from the years leading up to World War II, and draw from periodical and newspaper articles in addition to scholarly essays across the twentieth century.
Collectively, the works by these writers put Polish anti-Semitism in context and in the process reflect upon the full story of Polish history in the 20th century.
Information
Format: Hardback
Pages: 424 pages
Publisher: Oxford University Press Inc
Publication Date: 02/02/2017
Category: European history
ISBN: 9780190624514
Free Home Delivery
on all orders
Pick up orders
from local bookshops