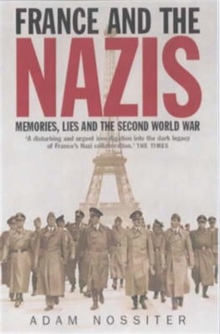 France and the Nazis : Memories, Lies and the Second World War
Paperback / softback
Description
On June 9th, 1944, citizens of Tulle, France silently watched as soldiers lazily consumed cherries from the abundant trees, whilst hanging nooses from its leafy branches in preparation for the murder of 99 randomly selected Frenchmen, condemned for being Jews.
This gruesomely vivid image is emblematic of the Vichy regime's enthusiastic application of its Nazi masters' policy towards the Jews and is one of many memories rejected by the people of France today.
In "France and the Nazis", journalist Adam Nossiter explores the conscience of a nation.
Following the trial of Maurice Papon, the government official connected with the deportation of 1500 Jews to Nazi death camps, Nossiter seeks "those who might have reason for not remembering".
Instead he encounters many who are self-serving, dismissive and forgetful.
Vichy, the capital of occupied France, housed the Gestapo headquarters; here, Nossiter finds many who confess ignorance to the government's actions and memories that have been distorted to provide a comfortable view of the past. In Tulle, site of the aforementioned atrocity, the victims' families are still angry, whilst to others the incident seems to assume the texture of a long-forgotten dream.
This is a searching study of the ghosts of modern France - from collaboration to collusion to compromise - and a resonant story about how we remember and why we forget.
Information
Format: Paperback / softback
Pages: 306 pages, 8pp b&w plates
Publisher: Methuen Publishing Ltd
Publication Date: 27/11/2003
Category: European history
ISBN: 9780413759702