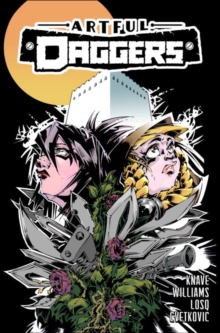 Artful Daggers: Fifty Years Later
Paperback / softback
Description
Fifty years after a time traveler brings science and technology to themedieval ages, corporations have replaced kingdoms, and the future teeters on ableak precipice.
Agents and assassins, hired for their specialties by therivaling companies, stem the flow of information with the flow of blood.
But thecurrent system can't hold, and the balance of power is shifting... This print edition of Artful Daggers: Fifty Years Later, created bywriters Adam P.
Knave (Amelia Cole) and Sean E. Williams (Fairest) andartist Andrew Losq, includes a foreword by Michael Avon Oeming (POWERS,Mice Templar, and The Victories), a preface by Jacques Lamarre(Director of Communication and Special Projects, Mark Twain House), and pin-upsby some of the top artists in comics.
Information
Format: Paperback / softback
Pages: 152 pages
Publisher: Idea & Design Works
Publication Date: 01/04/2014
Category: Science fiction
ISBN: 9781613778852