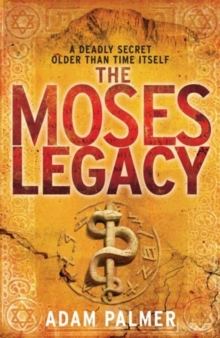 The Moses Legacy
Paperback
Description
When fragments of stone are found in Egypt, language expert Daniel Klein is called upon to decipher their mysterious ancient script - but others are determined to prevent the stone's explosive origins from being revealed...Framed for murder and forced on the run, Daniel and archaeologist Gabrielle Gusack are pursued across the Middle East by a ruthless killer with shadowy motives.As they try to stay one step ahead of their hunter, they realise that the secret of the stones is only the beginning...and the truth could cost them their lives.Be blown away by a heart-stopping conspiracy thriller - the perfect buzz for fans of Dan Brown and David Gibbins.
Information
Format: Paperback
Pages: 416 pages
Publisher: HarperCollins Publishers
Publication Date: 01/05/2011
Category: Thriller / suspense
ISBN: 9781847561848
Free Home Delivery
on all orders
Pick up orders
from local bookshops
Reviews
Showing 1 - 3 of 3 reviews.
Review by hankreardon
16/06/2015
The unprecedented success of Dan Brown has given rise to a spate of imitations; some better, some worse than their inspiration. Although clearly no Umberto Eco, Palmer has written quite a "clever" thriller here. It starts in a fairly standard way, for thrillers of this genre, with archaeologists discovering what they think to be the remnants of the tablets of stone containing the Ten Commandments. Yes it HAS been used before. But in this case, it is the original tablets that Moses purportedly smashed (according to the Bible), not the second lot that the Israelites took to Canaan/Israel.And this is the real (and rather ingenious) starting point for Palmer's narrative Because according to Palmer, the Ten Commandments are not what we think they are. Instead, the argument goes, the "real" ten commandments are to be found a few chapters later in the Bible and contain only three of the ten that those of us of a certain age learned in Sunday School. This is not an entirely original theory. It is a well-established part of the Documentary Hypothesis about the origins of the Bible - or at least the Pentateuch.But what Palmer has cleverly done here is weave this theory into his narrative, turning the discovery into the starting point for the hero to translate other documents - i.e. a number of ancient papyri written in "Proto-Sinatic" script. And it is these ancient papyri that make up the thriller element of this story. Because one of these documents apparently contains references to the Ten Plagues and the possibility that at least one of them can make a resurgence in the modern world. This at least is the belief of the hero's mentor. And a shadowy organization is interested in these documents, or at least the information they contain - for reasons that become clear later on in the story.Then there are all the other standard thriller elements for a story of this kind: the mossad, a crusty old Egyptian head of the Supreme Council of Antiquities (who seems like a bit of a caricature of Zahi Hawass) and a tall, sexy Austrian female archaeologist, who has known the hero since her teens and had a bit of an adolescent crush on him. In short, all the elements of a good "Dan Brown" style thriller.But do not be put off by the idea that this book might be "standard fare." It is fast-paced, with snappy dialogue, convincing characterization and gets the balance right between factual data and the story. While I was reading it I found myself constantly wondering how much of what the author referred to was "real" . Assuming that the Wikipedia is a reliable source (duh?), quite a bit. What particularly stood out was the way in which Palmer drew parallels between Jewish legends and real Egyptian artifacts. Indeed if Palmer is to be believed, one of the Biblical legends about Moses is described, albeit in somewhat different form, in an ancient Egyptian papyrus at the British Museum.Don't expect a complete course in Egyptology here. But what you will get is a fast-paced thriller with some juicy tidbits of information that made me want to reach for the remote control and switch on to the National Geographic channel in the hope of learning more.
Review by Farringdon
16/06/2015
My first thought when I saw this book was that there was an agenda behind it. The author's name looked familiar and a quick online search revealed that "Adam Palmer" had co-written a critique of Dan Brown's Da Vinci Code, from a Christian (and I believe Roman Catholic) point of view. However, names can be misleading and so can the internet. A further check on Adam Palmer's own website revealed that he is not the author of this book. He even noted that there were various other writers called "Adam Palmer" and he went to great pains to emphasize that he should not be confused with any of them. So when I actually started reading this book it was free of the pre-conceptions that would have clouded my judgement.In some ways - and I stress SOME - the book follows the Dan Brown formula straight down the line. The story starts with a big archaeological find. (I'm not giving away too much if I say that the head of the dig thinks she has found the original Ten Commandments). Then the heroic academic is called in - in this case an expert on ancient languages - and then the bad guys get to work , killing everyone in sight, or at least anyone who gets in their way.In this incarnation of the Dan Brown ghost, the "albino monk" is a giant with a chip on his shoulder after his wife left him. But behind him there is the proverbial SECRET ORGANIZATION that has big - and dirty - plans. This gives rise to some good set pieces such as a trip down the Nile in a "Felucca" with a charmingly quirky Nubian fisherman, a camel trip across Sinai disguised as bedouin and - most "Hollywood" of all - a speedboat chase in the Gulf of Aqaba culminating in a perilous swim underwater as the sea is raked by bullets.What elevates this book to a higher level, however, is that the author not only seems to know a fair bit about ancient Egypt and Jewish history, but manages to avoid the pitfall of putting in everything, indescriminately. All too often one gets the impression that writers, having done voluminous research, are desperately anxious to wave their arms in the air and say to the reader "Look how much I know!" In this case, one learns only as much as one needs to know to understand the story (with perhaps some minor caveats to that observation). What the book does put, however, is quite interesting. Indeed, there are times when the book seems almost too clever in the way that it links the Biblical narrative to ancient Egypt.As far as an agenda is concerned, my initial suspicion that I was going to be subjected to Christian propaganda proved unfounded. It is obvious that the writer is an atheist, or at least an agnostic. But reading between the lines, it is equally clear that his origins are Jewish and that he is attached to his former faith by his upbringing. One sees that in his hero Daniel Klein, who is introduced at a Passover "seider" telling his nieces all about Moses and the Israelites. Palmer returns to this theme at the end when he refers to "Daniel's childhood memories." It is perhaps these human touches that are the nicest feature of the book, reminding us, when we most need to be reminded, that the characters in this book are real people and not just props to drive the story along.
Review by wyvernfriend
16/06/2015
A book I finished feeling I had been running around for ages, which is what the characters do. Fragments of stone are found and only one man, Daniel Klein, can translate them, when he gets involved an assassin pursues him, and archaeologist Gabrielle Gusack, and they are on the run to get the information, uncover the truth and confirm some conspiracy theorists right and some wrong, as well as trying to stop a deadly plague from killing a lot of people.It felt like it was ticking off thriller boxes to build a Da Vinci Code style thriller. Not badly done but it didn't stand out for me either.