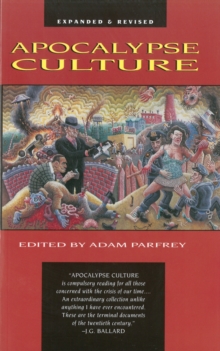 Apocalypse Culture
Paperback
Information
Format: Paperback
Pages: 362 pages
Publisher: Feral House,U.S.
Publication Date: 01/12/1990
Category: Popular culture
ISBN: 9780922915057
Free Home Delivery
on all orders
Pick up orders
from local bookshops
Reviews
Showing 1 - 3 of 3 reviews.
Review by poetontheone
16/06/2015
Parfrey's book is an anthology of interviews and essays united by one question: what happens when the melting pot of humanity boils over to reveal all the grime, dirt, and poison of the race? Such a question preoccupied many underground 'zines of the late eighties and early nineties, and this is the summation of their ethos bound up in paper and glue. As is to be expected with any sort of anthology, some pieces are better written or more enticing than others. I found far more pleasure in reading Taylor's piece on The Process, or McEvilley's survey of subversive performance art, or the candid interview with the female necrophile than I did reading the unsourced tirades about Freemasonry and New World Order conspiracy, though they have their moments. This collection might shock, intrigue, or entertain potential readers. It is not for the prude or the squeamish, but that is obvious. Those who seek this book out will find the sort of material they expect, and it satisfies to varying degrees.
Review by radicarian
16/06/2015
A bit disturbing, but that's to be expected.
Review by smichaelwilson
23/09/2015
Apocalypse Culture is a gritty look back at a time before the Internet and the explosion of the Information age when publishing houses like Feral House (and let's be fair, there were and still are very few publishing companies like Feral House) were the reading audience's main window into the more obscure deviant, bizarre, and downright disturbing counter/sub-cultures of the 80's. Much of this anthology is comprised of articles written for obscure counter-culture magazines, as well as hand-made zines and handwritten letters or flyers, and is highly reminiscent of a time when the small press and self publishing were almost a form of revolutionary guerrilla tactics. Apocalypse Culture, which has seen two upgrades (including a 25th anniversary edition) and a sequel, is chock full of dark side of human nature that was not normally available to the general public, from necrophiliacs and masochists to schizophrenics and conspiracy theorists. Everything from Lycanthropy to Eugenics is touched upon, and there are enough iconic personalities represented - Full Force Frank (confessed psychopath and publisher of how-to mass murder newsletters), Antone LaVey (Founder of the Church of Satan), G.G. Allin (Punk Rock Singer), Joe Coleman (Artist/Performance Artist), Peter Sotos (Controversial Writer), to name just a few.Some of the work in Apocalypse Culture may seem a bit mild compared to what one can scrounge up with a simple Google search these days, but there are still materials to be found that even today are somewhat taboo. But more importantly, this collection of taboo materials is a snapshot of a cultural component that many people are not even aware existed (and to an extent still exists), so for many reading this anthology will be like lifting a rock to see what's been lurking under the surface of the past. Not for the weak of heart, fragile souls, or the easily offended, but highly recommended to those who are unafraid to stare into the abyss.
Also by Adam Parfray