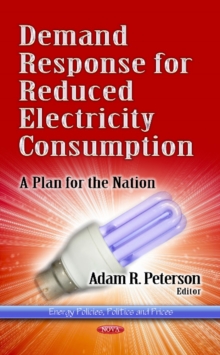 Demand Response for Reduced Electricity Consumption : A Plan for the Nation
Hardback
Description
Demand response is a valuable resource for meeting the nation's energy needs.
By lowering the peak demand for energy, demand response programs reduce the need to construct new, expensive generation units.
However, according to a Federal Energy Regulatory Commission (FERC or Commission) staff report -- A National Assessment of Demand Response Potential (National Assessment), submitted to Congress in June 2009 -- current demand response programs tap less than a quarter of the total market potential for demand response.
The FERC staff has worked with stakeholders to develop a National Action Plan on Demand Response (National Action Plan), which sets out actions to achieve the demand response potential in the United States.
Congress required the FERC to develop such a plan in the Energy Independence and Security Act (EISA) of 2007. Because current efforts have missed a significant portion of the cost-effective demand response potential, it is evident that action needs to be taken to either create new programs or expand existing ones where cost-effective.
This book provides an overview of the National Action Plan, the process behind its development, and context for understanding it.
Information
Format: Hardback
Pages: 138 pages
Publisher: Nova Science Publishers Inc
Publication Date: 01/11/2013
ISBN: 9781629480237