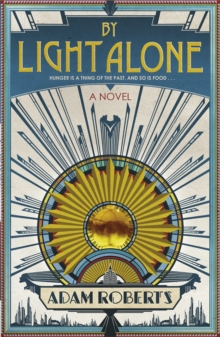 Description
In a world where we have been genetically engineered so that we can photosynthesise sunlight with our hair, hunger is a thing of the past, food an indulgence.
The poor grow their hair, the rich affect baldness and flaunt their wealth by still eating.But other hungers remain ...
The young daughter of an affluent New York family is kidnapped.
The ransom demands are refused. A year later a young woman arrives at the family home claiming to be their long lost daughter. She has changed so much, she has lived on light, can anyone be sure that she has come home?Adam Roberts' new novel is yet another amazing melding of startling ideas and beautiful prose.
Set in a New York of the future it nevertheless has echoes of a Fitzgeraldesque affluence and art-deco style.
It charts his further progress as one of the most important writers of his generation.
Information
Format: Paperback
Pages: 432 pages
Publisher: Orion Publishing Co
Publication Date: 14/06/2012
Category: Science fiction
ISBN: 9780575083660
Free Home Delivery
on all orders
Pick up orders
from local bookshops
Reviews
Showing 1 - 2 of 2 reviews.
Review by AlanPoulter
16/06/2015
The world has been freed from hunger. A gene-tweak to human hair makes it able to use photosynthesis to support human life, albeit needing very long hair, lots of sunbathing and a sedentary life. Some life on rafts, with desalination kits providing drinking water. So is this a story of utopia?Unfortunately not. The world is still not a happy one. The rich cut their hair and deliberately live on gourmet 'hard food'. The poor need hard food to have children, thus while men sunbathe women labour in menial jobs to get the hard food they need to survive pregnancy. Those among the poor able to afford hard food act like gang leaders, rewarding followers with hard food and condemning opponents to death by shearing their hair. There is tension between rich and poor. The former live in fortified ghettos, protected by police,and when necessary, the military. Some among the poor ('Spartacists') stir up trouble and try to organise attacks on the rich areas. There is rising tension as recent incidents referred to (but not narrated in detail),have inflamed the rich/poor conflict. There are scenes in the novel of the poor being shot, and bombed on their rafts.Separate sections each cover a particular member of a rich family, the father George, the mother Marie and their daughter Lissa. The parents are both shown as self-centred individuals, who do nothing of any importance. An awful event shakes up their dull existence for a while but it is resolved, albeit by external parties. The last section in the book is the best as it puts a markedly different spin on the previous ones and gives us some characters with much more depth than the shallow rich.All in all, the writing throughout is superb. However, one cannot though help feel though that the global scenario given is a little unlikely. It exists somewhat uneasily in between realistic and surrealistic modes.
Review by souloftherose
16/06/2015
Set in the near future, Adam Roberts imagines a world where someone has invented a way for people's hair to photosynthesise light into energy thus removing the problems of hunger and famine: they live, quite literally, 'by light alone'. But rather than ushering in a new age of contentment and equality, this invention has created an even larger gap between the rich and the poor, emphasised by the fact that the very poor are kept jobless and childless now that there is no need to pay them and due to the fact that the energy produced by photosynthesis isn't enough for a woman to carry a pregnancy to term. The only way to have a baby and to feed that baby is to have food. But even once common foods are now unbelievably expensive and only available to the very, very wealthy who shave their heads to show they are not reliant on photosynthesis. The end result of this imbalance? Revolution.<i>"The thing wealthy people don't understand is that, for most of human history, poverty has been something that could always get worse. Human beings would appear to be completely down and out; but they could alwys sink lower. This was beacuse for most of human history poverty was a subsistence phenomenon. Poor meant having the bare minimum. That is to say, it meant having something. And something can always be pared away. Not now! Now a new manifestation of poverty has come into the world - the most significant development in human history since the invention of farming. Now we have absolute poverty. And absoute poverty is absolute freedom! It can't be pared away, or threatened, or warred down."</i>Roberts has written a very thought-provoking, social science fiction novel which reminded me of Margaret Atwood's writings, both because of the themes of genetic engineering and poverty and because the writing style is quite literary. I've seen its depiction of the very rich referred to as Gatsby-esque which makes the cover particularly apt. The negatives? The first part of the book is mainly about how empty and pointless the lives of the very rich are, and how unhappy they are as a result. Fair enough and some of these characters do develop later in the novel, but I felt this first section was close to becoming heavy handed. And the ending is still a puzzle to me. But all in all, a literary science fiction novel which deserves more readers. I can't help feeling that this comment by the reviewer in The Telegraph is sadly, probably all too true: <i>"If By Light Alone were written by David Mitchell or Margaret Atwood, for example, it would doubtless be said to "transcend its science fiction" roots, as all literary fiction which borrows SF trappings must. But By Light Alone is unashamedly SF, and would that half the supposed "literary" novels on the shelves today were as well written, thoughtful and intelligent as this."</i>