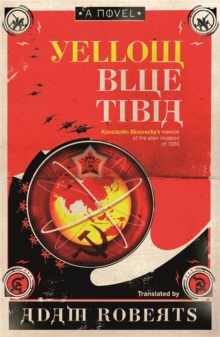 Yellow Blue Tibia : A Novel
Paperback
Description
Russia, 1946, the Nazis recently defeated. Stalin gathers half a dozen of the top Soviet science fiction authors in a dacha in the countryside somewhere.
Convinced that the defeat of America is only a few years away, and equally convinced that the Soviet Union needs a massive external threat to hold it together, to give it purpose and direction, he tells the writers: 'I want you to concoct a story about aliens poised to invade earth ...
I want it to be massively detailed, and completely believable.
If you need props and evidence to back it up, then we can create them.
But when America is defeated, your story must be so convincing that the whole population of Soviet Russia believes in it - the population of the whole world!' The little group of writers gets down to the task and spends months working on it. But then new orders come from Moscow: they are told to drop the project; Stalin has changed his mind; forget everything about it.
So they do. They get on with their lives in their various ways; some of them survive the remainder of Stalin's rule, the changes of the 50s and 60s. And then, in the aftermath of Chernobyl, the survivors gather again, because something strange has started to happen.
The story they invented in 1946 is starting to come true ...A typically mind-blowing SF novel from one of the genre's literary stars.
Information
Format: Paperback
Pages: 368 pages
Publisher: Orion Publishing Co
Publication Date: 13/05/2010
Category: Science fiction
ISBN: 9780575083585
Free Home Delivery
on all orders
Pick up orders
from local bookshops
Reviews
Showing 1 - 5 of 6 reviews.
Previous | Next
Review by pgmcc
16/06/2015
This is an enjoyable read. The first half of the book contains a lot of humour that is quite like the Russian humour found in the work of Vladimir Voinovich (see The Life and Extraordinary Adventures of Private Ivan Chonkin) but, IMHO over does it a little.The hero of this novel is a Science Fiction author who is reduced to working as a lowly translator. He fought in the Great Patriotic War and was subsequently asked, by no less a personage than Joseph Stalin, to work, in secret, with a number of other Science Fiction authors, to produce the story of an attack on Earth by aliens from outer space. This collaboration is started shortly after WWII and is not a very long lived venture.The story then leaps to the 1980s and we are provided with details of what was really behind the disaster at Chernobyl. The first three quarters of this novel could be considered plausable, or the incredulous elements could be explained away by rational explanation. The final quarter is a different matter.The title is a word play, akin to Colin Bateman's "Divorcing Jack", but this time in Russian. There is a linguistic clue to the title early in the novel, and the full explanation given towards the end.I have heard great things about the work of Adam Roberts, but this book has not encouraged me to rush out and grab another by him. Luckily, the version I have contains the first chapter of his next book, [The New Model Army], so I can sample that before handing out cash.A good read, but not a must read.
Review by HeikeM
16/06/2015
In post war Russia Stalin orders several sf-writers to think up a believable scenario, in which aliens are threatening life on Earth and specially Russia. After a few weeks of brainstorming and some mind-blowing ideas those writers are being to to stop and forget everything they thought of. 40 years later those very ideas seem to be coming true....... The story is told by one of the writers, only he and one other have survived and are now faced with an alien conspiracy. Or are they? This is a fantastic sf-novel. Or not. With aliens. Or not. It is sarcastic in places,dark and surreal into the absurd, it makes you laugh and frightens - and it is so very deeply Russian, it is near unbelievable that the author is British. A wonderful novel, one that didn't let me go until the end and makes me want to read more of his books.
Review by gonzobrarian
16/06/2015
As far as Soviet-era UFO conspiracy pastiche can be punted with an iron boot, Yellow Blue Tibia has proven refreshing. It's good to know the USA doesn't own a monopoly on the probing perspective by curious interstellar visitors, as Englander Adam Roberts skillfully speculates upon the Soviet scenario in which our visitors radiate their presence.Roberts combines clever science fiction with a well developed sense of Soviet drollery in his story, concentrating upon the events surrounding Konstantin Skvorecky, aging translator and former writer of science fiction. The plot is straight forward enough, whereupon Skvorecky and a cadre of top Soviet sci-fi fictioneers collectively conjure (Communism at work, comrades), at the behest of Stalin himself, a short-lived interstellar invasion only the Soviet aspirational supremacy can envision. The project is mysteriously halted yet decades later, Skvorecky attempts to understand and confront the emerging realization of his shared literary creation.Roberts goes to great lengths to super soviet-ize his story. The milieu is concentrated all within Skvorecky's persona, the stereotypically resigned, hyper-intellectual, confined only by the absurd yet ever rigid Party line. Consequently, Skvorecky's weapon of choice is pure, radiant and sarcastic drollery, directed near mostly everyone, with extended dialectical exchanges in which thoughtful Russians are inherently apt to engage. Encountering clueless KGB, scheming Scientologists, eccentric cabbies who dabble in nuclear physics, or even fellow academics, eager to loudly pronounce that aliens "like to probe the rectum", I fondly recall Skvorecky's likely American counterpart Fox Mulder, in his stoic attempts to discover some granular truth in his personal UFO sojourn.As Skvorecky ambles through the story, Roberts cleverly enmeshes his science fiction with cosmic philosophy. He provides brilliant, resonating soliloquies regarding the nature of radiation as well as finely-tailored usage of the more popular parallel multiverse conjectures making their rounds. The story of Chernobyl is cleverly fictionalized too, and given the current meltdown in Japan, is perhaps not too circumstantial a reminder of the effects of unregulated nuclear reactors.Not too many drawbacks to the book, with the possible exception that I was left wanting more background from several peripheral characters, most notably the eccentric Saltykov as well as Dora, Lunacharsky and the enshrouded Frenkel. There was considerably more action than I anticipated, but overall, this is a thinking geek's UFO speculation and should be applauded. So comrade, grab a seat, light some glorious Russian cigarettes and radiate some nostalgic patriotism by reading this fine Soviet sci-fi satire.
Review by ropie
16/06/2015
Superbly written novel, not only for the convincingly deadpan Russian voice of the world-weary main character but also for the fact that it really feels as if it has been translated from Russian. A superb job in this respect, and a background story about UFO invasion that <i>almost</i> lives up to the world-class dialogue. For me, the ending of the book, although exciting, is a little too rushed given the time taken to build up to it, and lacks the finesse of the rest. Still, a fine, extremely funny and thought-provoking novel.
Review by jerhogan
16/06/2015
Pretty good. Not as good as Dick at his best but reminescent in the way you're never sure what's going to happen next. The main character is old & decrepit but is plausible in the way he gets through various scrapes. Sometimes he's maddening as he's a self-professed ironist but sometimes he's humourous. The ending just about justifies the journey although it's a bit underwhelming. At least the ending is about as plausible as it could be despite the fantastic elements throughout the story.