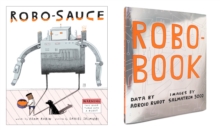 Description
Hey, kid! Tired of just being a boring old human? No problem. With just one taste of this top-secret Robo-Sauce, you can transform into a robot!
Now you have lasers for eyes and never have to eat your vegetables.
Just be sure to take the robo-antidoto to turn back into a regular kid.
After all, we can't just have robots stomping around all the time.
Wait a minute, what are you doing? Did you just turn your dog and your family into robots?
Are you turning everything into a rob. Beep. Bop. Boop. Adam Rubin and Daniel Salmieri have created a completely unique picture book that transforms into a shiny new ROBO-BOOK with the help of a wraparound gate fold.
You'll have to see it to believe it!
Information
Format:Hardback
Pages:48 pages
Publisher:Penguin Putnam Inc
Publication Date:29/10/2015
Category:
ISBN:9780525428879