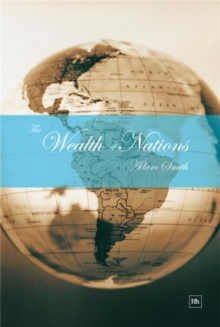 The Wealth of Nations
Hardback
Description
"The Wealth of Nations" is a treasured classic of political economy.
First published in March of 1776, Adam Smith wrote the book to influence a special audience - the British Parliament - and its arguments in the early spring of that year pressed for peace and cooperation with Britain's colonies rather than war.
Smith's message was that economic exploitation, through the monopoly trade of empire, stifled wealth-creation in both home and foreign lands.
Moreover, protectionism preserved the status quo, and privileged a few elites at the expense of long run growth.
Smith wrote, 'It is the industry which is carried on for the benefit of the rich and the powerful that is principally encouraged by our mercantile system.
That which is carried on for the benefit of the poor and the indigent is too often either neglected or oppressed.' This edition, based on the classic Cannan version of the text, includes a foreword by George Osborne MP and an introduction by Jonathan B.
Wight, University of Richmond, which aims to place the work in a business context.Wight also provides an invaluable 'Notable Quotes' section where he extracts and categorises some of the most famous and pertinent sections of Smith's work. This classic work is as essential today as it was when it first written.
Information
Format: Hardback
Pages: 624 pages
Publisher: Harriman House Publishing
Publication Date: 28/05/2007
Category: Economics
ISBN: 9781905641260
Other Formats
Paperback from £7.45
Hardback from £7.95
DVD from £22.00
EPUB from £1.94
Paperback / softback from £13.59
Free Home Delivery
on all orders
Pick up orders
from local bookshops
Reviews
Showing 1 - 1 of 1 reviews.
Review by tjwilliams
16/06/2015
Adam Smith revolutionized the study of economics with the publication in 1776 of his epic tome, An Inquiry into the Nature and Causes of the Wealth of Nations. His analysis of how capital and labor move in an economy completely changed how people thought about money and how governments regulated the markets.The first book of The Wealth of Nations reads much like any basic economics textbook would today. Smith opens with a discussion of specialization its importance to economic growth. He does not extend his argument, as modern economists would, beyond the subject of individual specialization to a broader discussion of comparative advantage and national specialization, but he does anticipate where future economists would take his argument when he discusses tariffs. Smith argues that is unwise to tax cheaper goods being imported to Britain and that the British should instead concentrate on exporting goods it can make more cheaply than its trade partners. This initial introduction to the concept of comparative advantage flew in the face of centuries of mercantilist thinking, in which trade was a matter of winners and losers and it was impossible for a country to enrich itself through trade without impoverishing other nations.Beyond essentially inventing modern economic thought, Adam Smith's greatest contribution was the concept of the Invisible Hand, a force that moves people, through their own self-interest, to engage in commerce that will benefit society as a whole. In fact, it is often possible for people to contribute more to society through greed and an attempt to profit, than through pure altruism. Profit opportunities are created by market inefficiencies and, by seeking to maximize their profits, entrepreneurs will attempt to capitalize on these profit opportunities and will fix these inefficiencies, often without understanding what they are doing. While Smith is certainly a fan of letting markets and entrepreneurs work freely he is not a proponent of laissez-faire economics. He is very distrustful of corporations and argues that the biggest potential downfall of any economic system is collusion between businesses to drive prices up. He believes that a watchful eye needs to be kept on all businesses and that the government needs to be careful in making policies that might favor one firm over another. There is so much more that could be said about The Wealth of Nations, but it should be sufficient to say that any person interested in economics owes it to themselves to read at least the first book of Smith's work. They may have been revolutionary at the time, but his ideas laid the foundation for the entire field of economics and it remains relevant today.