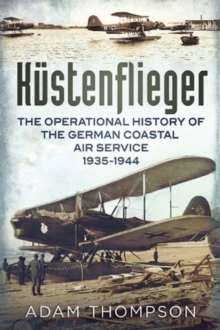 Kustenflieger : The Operational History of the German Naval Air Service 1935-1944
Paperback / softback
Description
From its very inception, the little-known Kustenfliegergruppen, the German coastal air service, was hindered by restrictions imposed at the Treaty of Versailles and the rising dominance of Hermann Goring's Luftwaffe.
Its size, capability and mandate were suppressed, and in 1944, the last Kustenfliegerstaffeln was disbanded in favour of the Luftwaffe's own naval air units.
From early designs and development in the interwar period, includings involvement in the Spanish Civil War, to the heroic deeds of various Sonderkommandos during the Second World War, Kustenflieger: The Operational History of the German Coastal Air Service 1935-1944 charts the fascinating history of this obscure but dynamic German fighting unit.
Based on original material from German archives and illustrated with 120 photographs, many previously unpublished, this is the first major work on the subject and essential reading for historians, modellers, and naval aviation and Second World War enthusiasts.
Information
Format: Paperback / softback
Pages: 160 pages
Publisher: Fonthill Media
Publication Date: 01/08/2014
Category: Second World War
ISBN: 9781781552834