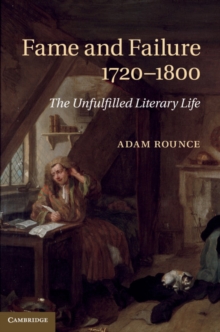 Fame and Failure 1720-1800 : The Unfulfilled Literary Life
Hardback
Description
Adam Rounce presents a colourful and unusual history of eighteenth-century British literature, exploring ideas of fame through writers who failed to achieve the literary success they so desired.
Recounting the experiences of less canonical writers, including Richard Savage, Anna Seward and Percival Stockdale, Rounce discusses the inefficacy of apparent literary success, the forms of vanity and folly often found in failed authorship, and the changing perception of literary reputation from the beginning of the eighteenth century to the emergence of Romanticism.
The book opens up new ways of thinking about the nature of literary success and failure, given the post-Romantic idea of the doomed creative genius, and provides an alternative narrative to critical accounts of the famous and successful.