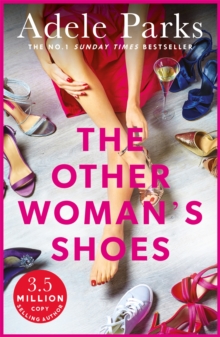 The Other Woman's Shoes : A sizzling story of passion, love and laughs
Paperback / softback
Description
The Other Woman's Shoes is a gripping novel of two very different sisters from Adele Parks, author of the No. 1 Sunday Times bestseller, Lies, Lies, Lies, which asks: is there such a thing as a perfect life or the perfect love?SEXY AND COMFORTABLE...
CAN YOU REALLY HAVE BOTH?The Evergreen sisters have always been opposites. Martha is married and has the perfect home and family.
Eliza rents a drab one-bedroom flat, which she shares with her sexy but hapless boyfriend. Until, one day, Eliza walks out on him, the very same day that Martha's husband walks out on her.
Suddenly the Evergreen sisters are united by separation. Eliza is free to pursue the relationship she's always wanted; one that offers stability and security.
Martha falls into a relationship that she could never have imagined; it's crazy and carefree. Can they find happiness dashing down these new paths? Or does chasing love only get more complicated when you're running in another woman's shoes?Features a preview of Adele's stunning, emotionally powerful contemporary novel, The State We're In and her sweeping, romantic historical, Spare Brides. What readers are saying about The Other Woman's Shoes:'All about finding happiness that sets the characters free, releasing the sexy, fun and loving women they really are.
Superb!''A fantastic, very well written and very refreshing book - certainly worth your while!'
Information
Format: Paperback / softback
Pages: 512 pages
Publisher: Headline Publishing Group
Publication Date: 07/06/2012
ISBN: 9780755394234