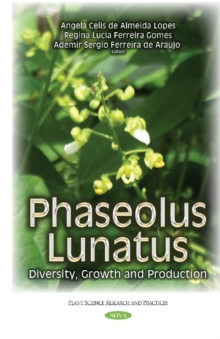 Phaseolus Lunatus : Diversity, Growth & Production
Hardback
Description
This book has been written in an attempt to advance people's knowledge on the Lima bean (Phaseolus lunatus) crop in tropical and sub-tropical regions.
The Lima bean is an important species of plant for humans in tropical regions and its seeds are considered an important source of protein for people from South America, Africa, and Mexico.
There is little information about the Lima bean crop regarding its origin, diversity, evolution, growth and production.
This book encompasses nine chapters on the topic to provide a broad knowledge of this fascinating crop.
The first three chapters cover the origin, diversity and evolution of the crop, including important information from Mexico and Brazil.
Chapter Four covers the phenology and development of the Lima bean aiming to understand all periods of growth.
Chapter Five shows important information for plant production regarding soil, chemical and organic fertilisation.
Chapters Six and Seven explain all aspects related to biological nitrogen fixation with information about soil bacterial diversity and the potential to fix the problem in tropical soil.
Chapter Eight reports important diseases related to the Lima bean and their management.
Chapter Nine shows the social and economic importance of the Lima bean mainly for developing countries.
Information
Format: Hardback
Pages: 125 pages
Publisher: Nova Science Publishers Inc
Publication Date: 01/06/2015
Category: Plant reproduction & propagation
ISBN: 9781634824941