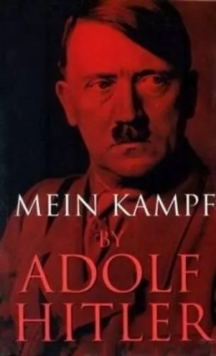 Information
Format: Paperback
Pages: 524 pages
Publisher: Jaico Publishing House
Publication Date: 15/06/2006
Category: European history
ISBN: 9788172241643
Other Formats
Paperback from £11.99
Hardback from £19.99
Paperback / softback from £10.95
Free Home Delivery
on all orders
Pick up orders
from local bookshops
Reviews
Showing 1 - 4 of 4 reviews.
Review by Safia
16/06/2015
This must be one of the most boring books in history. In the Introduction to the translation, even he said it was boring - and it is. I got about two pages in and I became bored.
Review by Angelic55blonde
16/06/2015
This is a great historical book to read. It definitely lets the reader into the mind of Adolf Hitler and his life prior to when he became the Hitler we all know. After reading this, it is suprising anyone allowed him to get so powerful (remember, he became dictator legally in Germany). This is a LONG and dense book filled with hate but it's a book that must be read if one wants to understand the Holocaust, Adolf Hitler, and World War II. Any historian should definitely read this, as well as history buffs.
Review by Eudaimonia
16/06/2015
Of course it is an influential book, yes, and if I rated it solely on that, it would easily rate five stars. My rating is solely on literary merit, and Hitler is not Goethe. His writing is dry and wanders from topic to topic. Nevertheless, it is a terrifying read.
Review by girlunderglass
16/06/2015
How do you rate a book like this? Do you rate it according to literary merit, according to how influential or important it is, according to how much you "enjoyed" it, according to how fascinating the subject, or according to the validity of the opinions voiced in it? Obviously I do not agree with the opinions the man voices, nor do I think the arguments he puts forth are valid. If the book is an attempt to justify himself, he fails. If it's an attempt to convert people to his way of thinking, he fails again. But that doesn't mean I'm not glad I listened to his arguments, nor does it mean that I didn't find the book interesting. In the first part of the book, when he is talking about his childhood and teenage years, Hitler seems like an educated and rational man: he adores books, believes firmly in the power of education, has a passion for history and geography, and his biggest ambition is to become a painter or an architect (!). Not only that, but he dismisses antisemitic theories "on grounds of human tolerance" and believes everyone should have a right to practice whatever religion they want to. His explanation of the reasons that compelled him to make his "greatest transformation of all" - his conversion to antisemitism - is ludicrous, at best. (Jews smell bad? 90% of artists he dislikes are Jews? Jews have formed a conspiracy to control all the newspapers? and nonsense like that) From that point onwards, the book becomes an outlet for his hatred towards Jews and for expressing his dreams of the expansion of Germany. The book is two-thirds tedious and one-third interesting, two-thirds nonsensical (in terms of arguments) and one-third rational. My rating is based purely on enjoyment, although I do not think that is fair. My conclusion would be the following: even though a big part of it drags on and even though no one in his right mind could justify Hitler based on this book, I do believe everyone should read it, so that they can understand better one of the people that changed the history of Europe and the world.