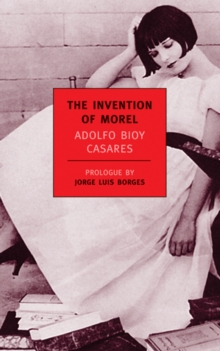 The Invention Of Morel
Paperback
Information
Format: Paperback
Pages: 120 pages, 8 b/w line drawings
Publisher: The New York Review of Books, Inc
Publication Date: 01/09/2003
ISBN: 9781590170571
Free Home Delivery
on all orders
Pick up orders
from local bookshops
Reviews
Showing 1 - 5 of 14 reviews.
Previous | Next
Review by seelight
16/06/2015
Not thrilled with it. It's a good, but not an exciting or inspiring book. Well structured, but with one of those maddeningly boring and stupid protagonists who falls in love with a beautiful but unlovable woman and acts like an idiot.
Review by jwhenderson
16/06/2015
The Invention of Morel is a science fiction novel by Adolfo Bioy Casares. It was Bioy Casares' breakthrough effort, for which he won the 1941 First Municipal Prize for Literature of the City of Buenos Aires. It shares some elements with The Island of Doctor Moreau by H. G. Wells. This is a tale of a man stranded on an island, one which appears to be inhabited by ghosts. Now I do not believe in ghosts, but when you are stranded on an island the spirits may be a bit closer than they are in the big city. And so it begins. "Today, on this island, a miracle happened: summer came ahead of time."(p 9) Now that may not sound like much of a miracle, but it is enough of one to give this short novel an aura of surprise and suspense. The fugitive who narrates the story is concerned with many things including the views of Thomas Malthus; a sort of population control is just one of the themes that inhabit this small book. Then there is Faustine and it is she that inspires a love that is more real than the island or the body of the tourists who disappear. It is these tourists who like to dance to "Tea for Two" from the Broadway musical "No, No, Nanette, foreshadowing this love that the fugitive bears for Faustine. Strangeness abounds throughout as suggested by the opening miracle, but this is fiction. It is here that dreams of immortality of the spirit inspire in ways that are not possible outside the world of fiction. The fugitive seeks control of his world, a way to deal with others including, possibly, Morel. It is Morel who reminds me of Well's Doctor Moreau. The impact of Casares concise and precise writing style is evident throughout the book. Slowly you begin to realize that each sentence is important to the construction of the whole, references some theme and is essential to the understanding of the Island, the story, and the characters who inhabit this world.Jorge Luis Borges wrote in the prologue, "To classify it [the novel] as perfect is neither an imprecision nor a hyperbole." Mexican Nobel Prize winner in Literature Octavio Paz echoed Borges when he said, "The Invention of Morel may be described, without exaggeration, as a perfect novel."
Review by phooky
16/06/2015
Nicely paced and conceived, but the premise must have been far more surprising and mind-expanding at the time of publication. The novel invests a lot of its energy in foreshadowing and anticipation; unfortunately, most of the ideas have since become popular science fiction fodder, and I found I was several steps ahead of the narrator throughout. I would have loved this book if I'd read it in a less technologically sophisticated age.
Review by angella.beshara
16/06/2015
This book was a bit like a fine-dining experience; the portion appears small but at the end of the meal you are surprisingly stuffed. Casares packs so much into this little book that I find the more I think about it the more I like it and the more I feel, well satisfied. In fact, as I think about it these South American writers are extraordinarily good at the novella. I read Marquez's "Memory of My Melancholy Whores" earlier this year and although I didn't love it I couldn't stop thinking about it for a couple of days either. The whole story is told to us through the diary entries of a condemned man who has escaped to a deserted island. We never know what he did but there are hints of political dissident and maybe violence. The narrator is incredibly unreliable but you find yourself caught up with him and even for a moment believing like him that the craziness on the island is an elaborate rouse to recapture him. Central to the story is a kind of love triangle that explores obsession and idealization. It is through this love triangle that the narrator begins to grow and ultimately finds redemption. To really go into the thought provoking elements of the novel would give away all the fun so I'll spare you but if you and just say if you have ever had a crush/fascination on a celebrity you might find this novella interesting.
Review by StevenTX
16/06/2015
The narrator of <i>The Invention of Morel</i> is a desperate fugitive who has chosen to end his days on a deserted island where a museum and vacation resort have long been abandoned because of the unhealthy climate. After living for some time alone in the marshes, to his surprise, he finds a group of tourists have occupied the buildings and brought the island suddenly back to life. At first wary of them, he gradually becomes bolder, eventually falling in love with a melancholy beauty who often sits alone.Written in homage to the film star Louise Brooks, the novella is a surreal reflection on art versus reality, thoughtfully reflecting a culture where image matters more than substance and fame is a form of immortality.
Also by Adolfo Bioy-Casares