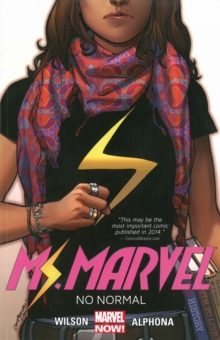 Ms. Marvel Volume 1: No Normal
Paperback
Information
Format: Paperback
Pages: 120 pages, 1 Illustrations, unspecified
Publisher: Marvel Comics
Publication Date: 30/09/2014
Category: Superheroes
ISBN: 9780785190219
Free Home Delivery
on all orders
Pick up orders
from local bookshops
Reviews
Showing 1 - 5 of 27 reviews.
Previous | Next
Review by shanaqui
16/06/2015
I'm going to pretend I haven't seen/read the comments and reviews that basically boil down to "a Muslim American can't be a superhero, and because this story is about a Muslim American teen, it's not really a superhero book". Despite the fact that in many ways, this is Spider-man: family issues, school issues, identity issues, except it happens to be a female character who also happens to be a person of colour and a Muslim. There is nothing in the set of issues here that wouldn't be right at home wearing a different mask in Spider-man. He spends just as much time building up to getting the costume, just as much time <I>or more</I> actually becoming a superhero.<br/><br/>I did find that this TPB stopped just where I wanted things to really begin for Kamala. It's a little too short, not giving me enough to really hold onto. I like Kamala, I like her family, I like the quirks of the art and what we've seen so far -- I just haven't seen enough yet to know how <I>much</I> I'm going to like it. This TPB is really just an origin story, and we have yet to see Kamala meet the wider world.<br/><br/>It's great as an origin story, but I'm not hooked yet.<br/><br/>And before you ask, Spidey took me a while too.
Review by knsievert
27/08/2015
Might switch to five stars later. I really like this.
Review by knsievert
27/08/2015
Might switch to five stars later. I really like this.
Review by MaowangVater
27/08/2015
Chafing against parental restrictions, sixteen-year-old Kamala Khan sneaks out to attend a party down by the river. But when she arrives she's teased and tricked by some of the partygoers. She storms off, and as she does all of Jersey City is enveloped in a mist. Kamala passes out, but when she wakes up she discovers that she has the superpowers and body of Captain Marvel—sometimes, and then she's just Kamala again, and then she transforms again. She finds herself with a very unique problem: how to get control of these powers and body changes?
Review by bragan
16/06/2015
I'm not a fan of superhero comics, but I have a lot of friends who are, and I tend to hang out in circles where they're popular, so I manage to pick up a fair amount about them by sheer osmosis. And I'd certainly heard a lot of buzz about this one, mostly centered on the fact that the title character is a Pakistani-American Muslim girl, which is is apparently a first in comics history, and a welcome step in making the superhero scene a little more diverse. Which struck me as a laudable thing, but wasn't enough to make me want to run out and read it. But then I also heard that the main character, Kamala Kahn, was a fun, somewhat geeky, pop-culture-savvy heroine, and that <I>did</I> make me more interested. And then this first collected volume just sort of showed up on my doorstep -- this is a thing that happens to me with books -- so of course I <I>had</I> to read it.And I did enjoy it. Kamala is indeed a likeable, well-realized character, and the way she's written feels very clueful and real. There's some thematic stuff here, too, about the experience of being a child of immigrants, trying to figure out exactly how you fit in and how to be yourself when you're not quite like everybody else around you. It's not necessarily terribly subtle, but it's not clunky Afterschool Special stuff, either, and overall it works. The artwork is very well done, too.I'm not sure, though, whether I'll continue reading this series or not. This was a pleasant read, and I'm happy enough to have made Kamala's acquaintance, but it hasn't instantly converted me into a fan of superhero comics.