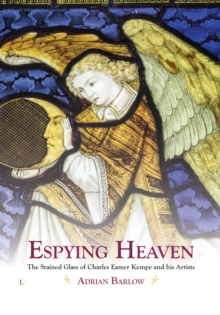 Espying Heaven : The Stained Glass of Charles Eamer Kempe and his Artists
Hardback
Description
Espying Heaven presents the first full-scale and full-colour survey of the achievement of Charles Eamer Kempe (1837-1907), the outstanding stained-glass designer of his era, and his Studio.
From the start, Kempe gathered around him a close-knit team of artists and craftsmen who together developed his vision of a distinctive aesthetic setting for worship based on late medieval art, especially the stained glass of northern Europe.
Espying Heaven illustrates the evolution of the 'Kempe style' and allows readers to judge for themselves the extent to which the later firm of C.E.
Kempe & Co. (1907- 1934), set up by Kempe himself, succeeded in working within the tradition established by his founding artists.
This book is meant to be a companion to Adrian Barlow's biographical study, Kempe: the Life, Art and Legacy of Charles Eamer Kempe (2018).
In its own right, Espying Heaven both documents and celebrates a style of church art and decoration that has had a defining influence upon the Anglican Church worldwide.
It highlights key features of Kempe glass, exploring questions of representation, symbolism and technique and suggesting new ways of 'reading' a Kempe window.
Information
Format: Hardback
Pages: 144 pages
Publisher: James Clarke & Co Ltd
Publication Date: 31/01/2019
ISBN: 9780718894641
Free Home Delivery
on all orders
Pick up orders
from local bookshops