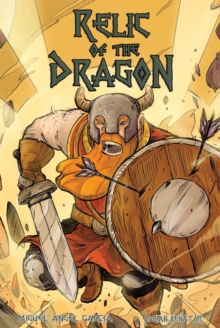 Relic Of The Dragon
Hardback
Description
The classic you-choose-the-story format jumps to comics with thisdungeon-crawling fantasy adventure for young readers!Urik the dwarf willneed help from his trusty spirit guide if he's to find the mysteriousDragon Relic, a quest assigned to him by the gods.
There's just one littleproblem: that spirit guide is you.
New dangers and new decisions loom on everypage. Help Urik overcome deadly demons, lying fairies, and beautiful, yettreacherous, unicorns.
Will he return home a glorious champion, or fall in ahole?
Navigate this strange labyrinth to complete the quest and discover yourultimate destiny.
Combining the setting and decision-making of classicsword-and-sorcery RPGs with the captivating storytelling and art of comics,Relic of the Dragon is the adventure of a lifetime.
Whether or not to take thejourney? That's no decision at all.
Free Home Delivery
on all orders
Pick up orders
from local bookshops