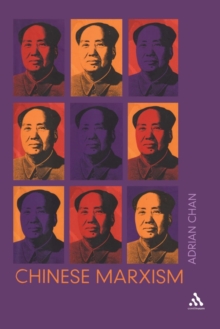 Chinese Marxism
Paperback / softback
Description
This groundbreaking study of Chinese Marxism examines the ideology and praxis of Marxism as it has developed in China from its earliest beginnings to current debates.
This is the first systematic, full-length analysis of the development and nature of Marxist ideology in China.
Adrian Chan challenges established scholarship in both the West and China, which continues to be overshadowed by Cold War dogma and party orthodoxy, respectively.
It has long been argued that Chinese Marxism was merely an offshoot of Soviet thought blended with ill-defined traditional Chinese ideas.
Using previously neglected Chinese sources--including newspapers, political journals and communist party documents--Chan refutes this.
Showing how the first Chinese revolutionaries were directly influenced by the writings of Marx, Chinese Marxism argues that Bolshevism was a secondary influence on Chinese communist thought.
Mao himself drew upon Marxian themes in the creation of party orthodoxy.
In doing so he signalled his differences from Lenin and Stalin on important issues of theory and practice.However, not all party leaders accepted this Marxian praxis. This has led to continuous conflict between proponents of Maoist Marxism and Soviet-type scientific Marxism-Leninism.
Chinese Marxism presents detailed studies of the Great Leap Forward and the Cultural Revolution to illustrate the consequences of this ongoing ideological conflict, and brings the story up to the present day with an analysis of the current Thermidorean Reaction and the controversial embracing of Confucianism.
Information
Format: Paperback / softback
Pages: 226 pages, black & white illustrations
Publisher: Bloomsbury Publishing PLC
Publication Date: 29/04/2003
Category: Marxism & Communism
ISBN: 9780826473073
Free Home Delivery
on all orders
Pick up orders
from local bookshops
Also by Adrian Chan