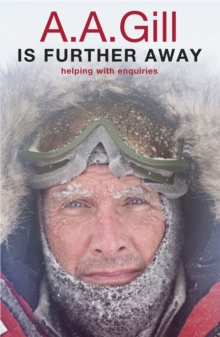 A.A. Gill is Further Away
Paperback
Description
A collection of dazzling travel pieces from SUNDAY TIMES journalist and critic A.
A. GILL.From the moment he joined the SUNDAY TIMES, A.A.
Gill has wanted to interview places - to discover the personality of a place as if it were a person, to listen and talk to it. A selection of the very best pieces that Gill has written over the past five years, A.
A. GILL IS FURTHER AWAY is a wonderfully insightful and funny compendium of travel writing taken mostly from the SUNDAY TIMES, but also from GQ, TATLER and CONDE NAST TRAVELLER. Gill writes with a clarity and acerbity that conveys the intensity of his experiences in his travels around the world.
His book includes essays on Sudan, India, Cuba, Germany and California. In each piece, there is a central image Gill uses as the key to unlocking the personality of a place.
Information
Format: Paperback
Pages: 288 pages
Publisher: Orion Publishing Co
Publication Date: 01/04/2012
Category: Travel writing
ISBN: 9780753829295
Free Home Delivery
on all orders
Pick up orders
from local bookshops
Reviews
Showing 1 - 1 of 1 reviews.
Review by edgeworth
16/06/2015
Another excellent collection of AA Gill's travel columns and opinion pieces, one of the only contemporary journalists whose prose is actually worth gathering up in a volume. AA Gill is Further Away is divided into two halves, "Near" and "Far," with "Near" collecting stories from England and "Far" containing more general foreign travel narratives.On the whole I enjoyed the English pieces better, as they range across topics as diverse as sustainable fishing, plastic surgery for burned WWII airmen, chicken breeding and dyslexia. There's a marvellous love letter to Hyde Park, its "open plains and secret dells, wild places, ruins and follies, fountains and palaces." One of the best articles is an exploration of the Battle of Towton, Britain's bloodiest in history, yet largely forgotten.<i>The reason Towton hasn't come down the ages to us may be in part that it was in the middle of the War of Roses, that complex internecine bout of patrician bombast, a hissy fit that stuttered and smouldered through the exhausted fag end of the Middle Ages like a gang feud. The War of Roses have no heroes; there are no good guys and precious little romance. They're as complicated and brain-aching as Russian novels and pigeon breeding.</i>The second half consists largely of more typical travel articles, but still has a few gems, such as his trip to Svalbard, his coverage of the 2008 US elections, or his analysis of Dubai:<i>Dubai has been built very fast. The plan was money. The architect was money. The designer and the builder was money. And if you ever wondered what money would look like if it were left to its own devices, the answer is Dubai.</i>Enjoyable and illuminating as always.