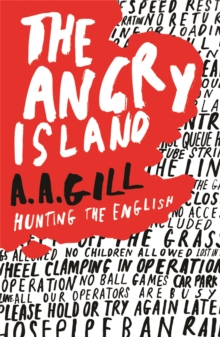 The Angry Island : Hunting the English
Paperback
Description
Foreigner Adrian Gill (a Scot) goes in search of the essence of England and the EnglishThe English are naturally, congenitally, collectively and singularly, livid much of the time.
In between the incoherent bellowing of the terraces and the pursed, rigid eye-rolling of the commuter carriage, they reach the end of their tethers and the thin end of their wedges.
They're incensed, incandescent, splenetic, prickly, touchy and fractious.
They sit apart on their half of a damply disappointing little island, nursing and picking at their irritations.Perhaps aware that they're living on top of a keg of fulminating fury, the English have, throughout their history, come up with hundreds of ingenious and bizarre ways to diffuse anger or transform it into something benign.
Good manners and queues, roundabouts and garden sheds, and almost every game ever invented from tennis to bridge.
They've built things, discovered stuff, made puddings, written hymns and novels, and for people who don't like to talk much, they have come up with the most minutely nuanced and replete language ever spoken - just so there'll be no misunderstandings.
In this hugely witty, personal and readable book, A.A.
Gill looks anger and the English straight in the eye.
Information
Format: Paperback
Pages: 256 pages
Publisher: Orion Publishing Co
Publication Date: 26/07/2006
Category: Travel writing
ISBN: 9780753820964
Free Home Delivery
on all orders
Pick up orders
from local bookshops
Reviews
Showing 1 - 1 of 1 reviews.
Review by MikeFarquhar
16/06/2015
I moved to England in September 2006, having spent the vast majority of my life living in various parts of Scotland. England's never somewhere I've spent that much time (my English geography is appallingly bad), and I figured I needed some sort of crash course in England and the English. I've read books of this sort before - Jeremy Paxman's excellent The English from a few years back for example - but Gill's book is relatively newly out, and it seemed to make sense. Gill is nominally a Scot, though effectively raised in England since he was a young child, but claims it gives him more of a removed perspective on England and the English. I'm not sure I'd agree with that (he sounds more like an Englishman with a peculiar sense of self-loathing than any Scot I know), but The Angry Island, his collection of opinions on various English stereotypies was entertaining enough. Gill's a right-wing sort, known for his often caustic views on everything from restaurants to the Welsh ("loquacious dissemblers, immoral liars, stunted, bigoted, dark, ugly, pugnacious little trolls"), and while I often don't agree with exactly what he says, he writes on it well enough. His central argument, that he hangs everything else off of, is that the core of the English identity is anger and, more specifically, repressed anger; but he acknowledges that the fundamental problem about the idea of an English national identity is that it is so hard to pin down. I don't think his book offered me anything new on the idea of England or the English, but it was a gentle reminder of just how much difference there can be between Scotland and England on the train on the way down. In the end it read more like Gill attempting to reconcile himself to the fact that he's English rather than offering any particular new insights on what it is to be English.