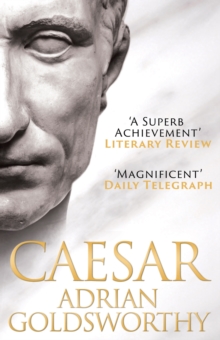 Description
The story of one of the most brilliant, flamboyant and historically important men who ever lived.From the very beginning, Caesar's story makes dazzling reading.
In his late teens he narrowly avoided execution for opposing the military dictator Sulla.
He was decorated for valour in battle, captured and held to ransom by pirates, and almost bankrupted himself by staging games for the masses. As a politician, he quickly gained a reputation as a dangerously ambitious maverick.
By his early 30s he had risen to the position of Consul, and was already beginning to dominate the Senate.
His affairs with noblewomen were both frequent and scandalous.His greatest skill, outside the bedroom, was as a military commander.
In a string of spectacular victories he conquered all of Gaul, invaded Germany, and twice landed in Britain - an achievement which in 55BC was greeted with a public euphoria comparable to that generated by the moon landing in 1969.
In just thirty years he had risen from a position of virtual obscurity to become one of the richest men in the world, with the power single-handedly to overthrow the Republic.
By his death he was effectively emperor of most of the known world.
Information
Format: Paperback
Pages: 704 pages, 15 Maps
Publisher: Orion Publishing Co
Publication Date: 03/05/2007
ISBN: 9780753821589
Other Formats
EPUB from £8.99
PDF from £54.00
Hardback from £53.19
Free Home Delivery
on all orders
Pick up orders
from local bookshops
Reviews
Showing 1 - 1 of 1 reviews.
Review by questbird
16/06/2015
I enjoyed this biography of Caesar, especially his early life, about which I knew nothing. Mr Goldsworthy describes with clarity the turbulent politics and ambitious personalities of the time at the end of the Roman Republic. I had heard of people such as Cato, Pompey, Crassus, Cicero, Brutus, Scipio, Marcus Antonius and Cleopatra, but this book puts them into the context of Caesar's life without allowing the many details and side debates to detract from the main focus, Caesar himself. Descriptions of political motivations of the various players were very interesting. The Gallic wars took up quite a chunk of the book. I was less interested in these, partially because (as noted by Goldsworthy) virtually the only historical sources for this period are written by Caesar himself. I also found the epilogue somewhat watery and hedged (it is written by a historian after all). However overall it was a clearly written book which gives a very good insight into the man Caesar and his time.