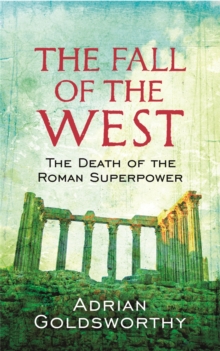 The Fall of the West : The Death of the Roman Superpower
Paperback
Description
A sweeping narrative of the decline and fall of the Roman Empire. The Fall of the Roman Empire has been a best-selling subject since the 18th century.
Since then, over 200 very diverse reasons have been advocated for the collapse of the western half of the Roman Empire.
Until very recently, the academic view embarrassedly downplayed the violence and destruction, in an attempt to provide a more urbane account of late antiquity: barbarian invasions were mistakenly described as the movement of peoples.
It was all painfully tame and civilised. But now Adrian Goldsworthy comes forward with his trademark combination of clear narrative, common sense, and a thorough mastery of the sources.
In telling the story from start to finish, he rescues the era from the diffident and mealy-mouthed: this is a red-blooded account of aggressive barbarian attacks, palace coups, scheming courtiers and corrupt emperors who set the bar for excess.
It is 'old fashioned history' in the best sense: an accessible narrative with colourful characters whose story reveals the true reasons for the fall of Rome.
Information
Format: Paperback
Pages: 544 pages
Publisher: Orion Publishing Co
Publication Date: 01/02/2010
Category: European history
ISBN: 9780753826928
Free Home Delivery
on all orders
Pick up orders
from local bookshops
Reviews
Showing 1 - 2 of 2 reviews.
Review by RobertP
16/06/2015
This is a very informative and entertaining look at the long drawn out collapse of the Roman Empire. Adrian Goldsworthy makes two good points. First, that the Empire took a long time to collapse - it was not a sudden or noticeable thing. Second, that a self-serving and not very efficient bureaucracy played a role. What he didn't spend enough time on, and I think there is sufficient information out there now to have done so, is the impact of health and disease, especially large-scale epidemic disease, on the Empire.A ripping good read, really.
Review by zen_923
16/06/2015
This book is both well-written and informative. The author provides a good narrative of the period from the golden age to the last years of the roman empire. He also does a good job of incorporating his thesis into the narrative to explain the age-old question of why and how the decline happened.
Also by Adrian Keith Goldsworthy