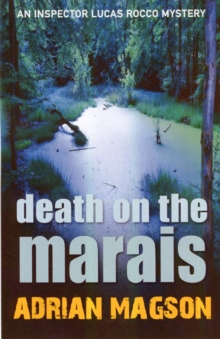 Death on the Marais
Paperback
Description
She was going to die. She could feel it, her life ebbing away as surely as fine sand through fingers.
The thought caused her more sadness than fear; less a sense of foreboding than a cause to wonder what lay ahead. France, 1963. It's a time of great change in France, not least for Inspector Lucas Rocco.
As part of a nationwide 'initiative' to broaden police operations, he finds himself moved from the Paris metropolis to a small village.
His new patch might be rural, but it's certainly not uneventful: on his first day, he finds a murdered woman wearing a Gestapo uniform lying in a British military cemetery.
When the body is removed by order of a magistrate from the police mortuary before Rocco can finish his investigation, he realises he's up against a formidable enemy.
An enemy who will go to any lengths - even murder - to stop his investigation.
Information
Format: Paperback
Pages: 416 pages
Publisher: Allison & Busby
Publication Date: 28/04/2011
Category: Crime & mystery
ISBN: 9780749009915
Free Home Delivery
on all orders
Pick up orders
from local bookshops
Reviews
Showing 1 - 2 of 2 reviews.
Review by Condorena
16/06/2015
Marais is the French word for marsh and that is what Inspector Lucas Rocco found when he was transferred. He had been a Paris policeman when the Interior Ministry felt that rural provinces needed some Parisian expertise in law enforcement and Rocco was sent to a town in a northwest province of France. His superiors had a few interesting things to say of him "That he was an insubordinate bastard, insolent as well as pushy, dogmatic and a nobody, reckless…a rebel. A good cop though.<br/>Rocco expects the new assignment to be quiet, uneventful and maybe boring but he doesn't expect that the first thing he runs into in the village to be a crowd pulling a dead woman from the marsh at the edge of a war cemetery wearing a Gestapo uniform twenty years after the war was over.<br/>Rocco's war experiences were of a later era. He spent his army days in the jungles of Indochina during the conflict between the French and the Vietnamese after France reoccupied the area after WWII.<br/>Once the woman is identified as the daughter of a well-connected wealthy man named Phillippe Bayer-Barbier the detective heads back to Paris following the trail of very dirty secrets. <br/>There is an interesting cast of ancillary characters in this village, the local policeman, a tramp whose expertise is defusing bombs left over from the war as well as several people who service a small mansion where Parisian men come for nefarious mostly sexual purposes and perversions.
Review by edwardsgt
27/08/2015
Inspector Rocco is sent to a backwater in Picardy from Paris as part of a reorganisation and is immediately thrown into a mysterious death enquiry with links back into murky WW2 resistance activity. Set in 1963 during the Presidency of de Gaulle it really evokes a country and period still coming to terms with WW2 and people's roles in the resistance. An enjoyable read which left me keen to sample more.