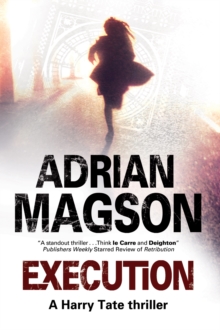 Description
When a Russian hit team catches up with Roman Tobinskiy, political opponent of Moscow and former FSB colleague of Alexander Litvinenko (murdered by polonium poisoning in 2006), it's an easy kill; he's lying helpless in a hospital bed.
They realise too late that in an adjacent room is Clare Jardine, ex-MI6 officer, recovering from wounds while saving Harry Tate's life.
When Clare goes on the run, Harry is ordered to track her down before the Russians reach her.
It's one of his toughest challenges yet. For not only is Clare as adept at covering her tracks as Harry is himself, but the Russians are not the only ones chasing her.
Harry is about to come up against an old enemy from his past. And if he is to save Clare's life - as she saved his - he must seek help from a most unlikely source.
Information
Format: Hardback
Pages: 256 pages
Publisher: Severn House Publishers Ltd
Publication Date: 14/05/2013
Category: Thriller / suspense
ISBN: 9780727882820
Free Home Delivery
on all orders
Pick up orders
from local bookshops
Reviews
Showing 1 - 2 of 2 reviews.
Review by RowingRabbit
16/06/2015
Former MI6 agent Clare Jardine is having a rough week. First, she was shot in the stomach. Then, while recuperating in King's College Hospital in London, two Russian hitmen sneak in one night &amp; finish off one of their countrymen who's in the room across the hall. He was a friend of Litvinenko (the high ranking Russian killed by polonium poisoning) &amp; former FSB, now exiled form Russia.<br/>After the killers leave, Clare knows she's in trouble. She's not only a witness, she speaks Russian. With her broken body &amp; large gaps in her memory, she leaves &amp; proceeds to hide in central London.<br/>Since her last assignment, Clare doesn't have many friends. She had been banished to an outpost with other agents who had fallen out of favour &amp; during a shootout was injured saving the life of Harry Tate, former MI5.<br/>Harry &amp; Rik Ferris were encouraged to "retire" from the agency &amp; now run a security consulting business. When they are contacted by Clare's old boss, Richard Ballatyne, to find her, Harry feels he owes her one. But neither he nor Rik could have predicted the fallout from this. Soon, they are running with Clare, not just from the determined Russians, but from an old nemesis &amp; a new threat inside MI6. Ballatyne helps as much as he can behind the scenes but can't show his hand 'til he finds the leak from within.<br/>This is a fast paced thriller full of intrigue, double crosses &amp; secrets. Harry &amp; Rik are a likeable team of opposites. Harry is old school, smart &amp; suspicious of everyone. Rik is a young hacker with mad computer skills &amp; a unique fashion sense. Clare is an interesting character. She's a survivor with as much to fear from her former colleagues as the FSB. She's prickly, distrustful &amp; even if you don't particularly like her, you have to respect her abilities &amp; intelligence. Clare has always been in the closet but the only one that may help them is an old lover who happens to be a Russian agent.<br/>There are lots of twists &amp; turns and several of the characters you really want to see get what they deserve. These people have turned back stabbing into an art form &amp; everyone has a hidden agenda. The dialogue is sharp &amp; real as the author slowly reveals layer after layer of lies &amp; secret alliances and you can't help cheering on the trio as they take on all comers &amp; the body count rises.<br/>All in all, a well written thriller that should appeal to fans of Lee Child &amp; Nelson DeMille as well as fans of previous Harry Tate novels.
Review by edwardsgt
27/08/2015
Another great story from Adrian Magson as he ratchets the tension as Harry and his sidekick try to track down a Russian black ops hit squad in London, whilst past and present MI5 and MI6 characters try to double-cross everyone. Spookily we had walked down an alley between Charing Cross Rd and St Martin's Lane where one of the characters visits an antiquarian book shop the same day I read about it! Highly recommended for Harry Tate fans and those who have yet to discover him.
Also in the A Harry Tate Thriller series | View all